Pakistan
National Shia Conference on October 3rd at Islamabad, MWM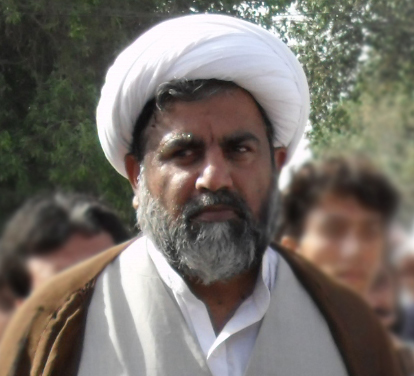 Majlis Wehdat Muslimeen (MWM) on Monday demanded of the government to immediately restore the writ of Government at Kurram Agency Parachanar saying that people of Kurram Agency was suffering the besiege imposed by Taliban from last three years.
Addressing a press conference at Karachi press club, MWM Central Secretary General Maulana Raja Nasir Abbas Jafari announced to send the Peace Caravan towards Parachanar to break the inhuman and illegitimate besiege of Taliban's.MWM Central Secretary General Maulana Ameen Shaheedi, Maulana Hassan Zafar Naqvi, Maulana Ahmed Iqbal Rizvi, Mohammad Mehdi and others present on the occasion.
Maulana Nasir Abbas said that the entire country was facing the disastrous situation from flood but the terrorists of Taliban is imposed the war on oppressed people of Kurram Agency Parachanar from the Afghan border saying that this is the responsibility of the government to protect the more than 0.8 million population of Kurram Agency from Taliban terrorists.
Commenting over the judicial probe of attack on Al-Quds rally in Quetta, He expressed his no-confidence on the judicial tribunal made by the Balochistan government to probe the attack on Al-Quds Rally.
He demanded of the Superior Judiciary and the government to establish the judicial commission under the High Court judges to expose the failure of government and the elements involved in the suicide attack on Al-Quds Rally.
He criticized the arrest of organizers of Al-Quds rally and the registration of FIR against the organizers saying that this awful act of Balochistan government has exposed their discriminatory policies.
MWM top stalwart said that to address the issues of Shia Community the national conference of Shia organizations and elders will be held on 3rd October at Islamabad to make the consensus on the genocide of the community.
He further announced that the Chehlum of martyrs of Youm-e-Ali (AS) procession will be held on October 10th at Nasir Bagh Lahore. However the Chehlum congregation of Al-Quds rally martyrs will hold on 15th October at Quetta.
He said that the terrorists involved in the bomb blasts in Aashura and Arbaeen processions in Karachi, suicide blasts in Youm-e-Ali (AS) procession in Lahore and Al-Quds rally in Quetta have not arrested yet.
He alleged that some federal and provincial ministers have a close ties with the banned terrorist outfits and demanded of the government and political parties leadership to immediately these people from their ranks.
Maulana Raja Nasir Abbas strongly condemned the statement of Federal Interior Minister Rehman Malik to minimize the route of the religious processions saying that federal minister has completely failed to establish the writ of the government in across the country.
Back to top button