Pakistan
In a new attack of Taliban;More than 25 Shia Martyred and Injured in Parachinar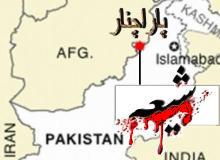 The Talibani Wahhabi terrorist attacked the innocent Shia Muslims in Parachinar. The attacks of the terrorists led the number of Shia martyrs in "Shaluzan" to 25 people and injuries to 80.
In Parachinar, Taliban terrorists surround and blockade the "Kheyvas" village in the Shaluzan Mountains and attack the innocent Shia with modern weapons.
Fresh clashes erupted between Shalozani Shias and Talibani terrorists in Kurram Agency, local sources  said.
The Talibani groups used heavy and sophisticated weapons to target Shia positions and burnt dozens of houses in four villages.
The strange is that, when the terrorists face with the resistance of Shia defenders and are unable to go further, the government forces bombardment the Shia positions to help the terrorists!
Sources said two key commanders of the Haqqani terrorist network were also killed in the fighting. It is believed that 10 suspected militants were among the 13 people who died in clashes yesterday.
Local residents said the clashes had intensified after militant factions, including rebels from Afghanistan, began backing a group of tribesmen.
8 Shia got Martyred while were defending the "Kheyvas" village last night and thus, the total number of Shia martyrs in recent 2 weeks clashes between Shia and terrorists in Parachinar got 25 people. However, more than 80 Shia including women and children have been injured.
All Muslim communities of Kurram Agency observed a strike today to protest the government's silence over the Shia killings.
All shops and markets in the region were closed throughout the day.
Kurram Agency has been virtually cut off from the rest of Pakistan for the past two years due to intense clashes between Shiite and Talibani rebels.