Pakistan
KARACHI- Protest against Quran desecration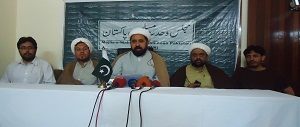 Majlis Wehdat-e-Muslimeen (MWM) and Imamia Students Organization (ISO) on Friday staged the protest demonstration outside the several mosques of Karachi to condemn the desecration of holy Quran in America.
The protest was staged after the Fatwa issued by the Ayatullah Khaemeni to condemn the shameful act of desecration of Quran. Several demonstrations  were held in the metropolis including the Khoja Mosque Kharadar, Masjid-e-Mustafa Abul Hassan Ispahi Road, Noor-e-Eman Mosque Nazimabad, Hussaini Barakhana Malir, Haider Mosque Organi Town and other mosques of the metropolis.
Speaking at the demonstrations, MWM Central Leaders Maulana Mirza Yousuf Hussai, Maulana Haider Abbas, Mohammad Mehdi, Maulana Munawar Naqvi and others demanded of the Obama administration to render apology to Muslim world over the desecration of Quran.
They asked the Obama administration to immediately arrest the Zionists terrorists involved in the desecration of Quran saying that the dishonoring of holy Quran in USA was not possible without the support of Obama administration.
The leaders said that the sacrilege of Holy Quran was the conspiracy of Zionist elements to create clash between the Muslim and Christian world.
They demanded of the United Nation, OIC, and other International organizations to take immediate notice of the violation of UN charter for respect of religion saying that Muslims of the world would not tolerate the desecration of Holy Quran.
Enraged protestors were torched the United States and Israeli flags and chanting the slogans against America, Israel and Zionists.