Pakistan
UN has failed to settle the dispute of Palestine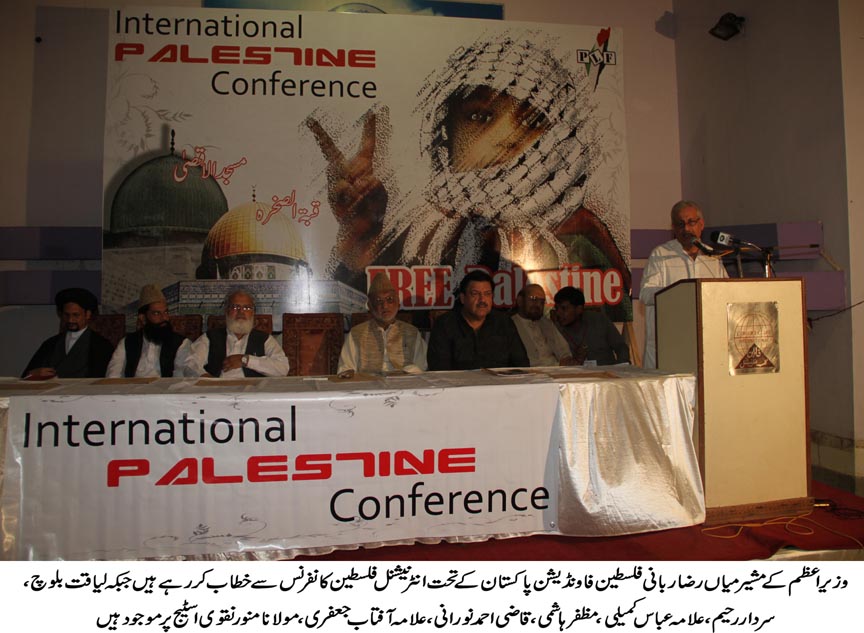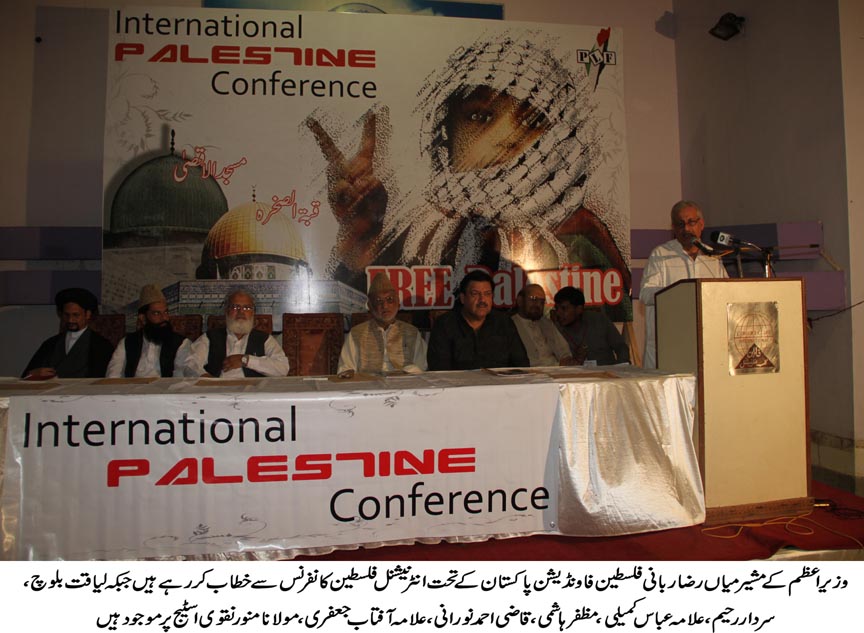 KARACHI- Advisor to Prime Minister Senator Mian Raza Rabbani on Wednesday opined that United Nation has failed to settle the dispute of Palestine and Kashmir because the UN has been a tool in hand of US imperialism.
According to the Shiite News Correspondent, Addressing the "International Palestine Conference" at faran club held under the aegies of Palestine Foundation Pakistan (PLF),  Mian Raza Rabbani criticizing the role of United States said that UN has been playing the role of  puppet of United States.
Jamaat-e-Islami General Secretary Liaquat Baloch, Â PML-N Central Leader Sardar Raheem, Jafaria Alliance President Allama Abbas KumaILI, JUP leader Allama Qazi Ahmed Noorani Siddiqui, Maulana Munawar Naqvi, Allama Aftab Jafari and Muzaffar Ahmed Hashmi and others also addressed the Conference.
Mian Raza Rabbani said that the historical struggle of Palestinians was admire the entire world and Israeli has made the new recoreds of violation of human rights and international law.
He said that despite the idealogical differences between Hamas and Fatah both parties wanted the free Palestinian state.
PM Advisor said that people of pakistan especially pakistani youths have been supported the palestinian issue.
He asked the United States to stop their support to the Zionist state. He added that this support poses threat to the U.S. interests and would cost them dearly.
Jamaat-e-Islami Secretary General Liaquat Baloch asked the Muslim rulers to let the policy to appease the united States and to raise the voice for the rights of Muslim world.
He urged the Pakistani leadership and Muslim world to initiate practical efforts to resolve the Palestine dispute and asked the Muslim rulers to follow the footpaths of Imam Khomeni and expose the real face of imperial forces.
Balcoh criticized the criminal silence of OIC, Arab League, and Muslim rulers on palestine and warned that this silence would emerge disobedience in their countries.
PML-N Central leader sardar Raheem said that Pakistani nation has been palying the active role regarding the palestine dispute and condemned the role ofUnited nation and enlightened Muslim rulers on palestine issue.
"The Muslim governments lack courage to raise their voice in support of the oppressed people of Palestine," he said.
He asked the muslim rulers to be united and raised the voice for Palestine issue.
Jaffaria Alliance president Allama Abbas Kumaili in his address referring to present situation of Gaza in the wake of Israeli invasion, he said, 1.5 million Palestinians were besieged inside Gaza without basic necessities like food, medicines, milk, water etc. and with entire infrastructure of the city destroyed. He said all schools, hospitals and other buildings were destroyed and thousands of tons of cement, iron and other construction material was required urgently to start reconstruction works.
He stressed that Muslims must work to remove American pressure against Palestinian cause which had been the main stumbling block in resolution of Palestinian problem by ending Israeli occupation.
He said that during the last ten years, the world witnessed unwavering resistance of Hizbullah and Hamas for a just cause. He announced people of Pakistan's full support for Palestinian nation and said that Pakistanis would not withdraw their just support to Palestinian brothers under any pressure.
JUP leader Allama Qazi Ahmed Noorani said that an independent state of Palestine is a right of Palestinian people. He said it is obligatory on the entire Muslim world to support the Palestinian people, adding that people of Pakistan have been supporting Palestinian people in their freedom movement.
He demanded the international court of justice to punish Israel for criminal and illegal occupation of Palestine and attack on freedom flotilla. He warned that nobody else would be saved from the Israeli atrocities if the Zionist regime was not punished for its ferocious activities against Palestinians.
Through a resolution passed on the occasion, the conference demanded of the Pakistan government to declare public holiday on Al-Quds Day (Jumatul Wida) and pass resolutions against Israeli occupation of Palestine and its aggression against innocent Muslims.
The conference announced unconditional support to Hamas, Islamic Jihad and Hezbullah in their struggle for the liberation of Palestine, and demanded that all Jewish settlements must be stopped forthwith and Israeli troops be sent back to the position of 1967.
The resolution also demanded the global human rights bodies to hold probe on the Israeli occupation forces attack on freedom flotilla.
End.