Pakistan
Speakers call for mobilizing global support for Palestine's liberation
Speaking at an International Palestine Conference, the leaders of Palestine and Pakistan stressed upon the Muslim world, specially the Pakistanis that it was high time they step up their efforts for mobilizing global support for Palestine's liberation from Israeli occupation in order to avert Zionists' plans of razing Al Aqsa mosque.
Representative of the Hamas movement in Lebanon and member of its political bureau, Osama Hamdan, who made a recorded address to  the conference, emphasized that defense of Palestine was in fact defense of Pakistan because Zionists believed they could never successfully occupy Palestine without first destroying the ideological Muslim nations like Pakistan.
"Israel considers Pakistan the only nuclear Islamic state that fully backs the oppressed Palestinian nation, therefore defense of Palestine tantamount to defense of Pakistan," he said in a recorded message for International Palestine Conference held here at a local club on Sunday under the aegis of Palestine Foundation Pakistan (PLP), a newly established platform in Balochistan Province for the sole purpose of upholding the cause of Palestine's liberation.
Palestine Foundation Central leader Qazi Ahmed Noorani Siddiqui, JI leader Amanullah Shadzai,PML.(Q)Leader Arbab Hashim Kasi,Chief of Barrik Nawab Muhammad Khan Shahwani,Former Amir Jamaat-e-Islami Abdul Haq Hashmi,Provincial President of JUI.S,Haji Shafique Dolatzai,PTI Provincial Leader Qasim Khan Soori,MWM Leader Allama Maqsood Domki,Allama Syed Hashim Musavi,Allama Juma Asadi,PLF Spokesman Sabir Karbalai, PLF Balochistan Spokesman Aamir Abbas Turi also addressed the conference.
Osama Hamdan, warned that Zionist regime of Tel Aviv was quite close to destroying Al-Aqsa mosque as it had been digging dangerous tunnels under the historic Muslim site for the last ten years. With the help of tunnels, Tel Aviv wanted to show the world that Al Aqsa mosque was demolished by natural causes, paving way for building their alleged Temple in its place which has been Zionists' centuries-old dream, he added.
Besides, he said, Tel Aviv was working on a plan to change demographic shape of Jerusalem city by building rapid Jewish settlements, reducing Muslims to only a negligible minority.
Osama Hamdan urged Pakistani nation should use their relations with 1.5 billion Muslims of the world to help safeguard Al-Aqsa and Palestinians.
"Condition of the region will change as soon as the message will be conveyed to all the 1.5 billion strong Muslim Ummah that the war on Palestinian is war on Islam and 1.5 billion Muslims," the Hamas official said.
He urged Muslim masses to exert pressure on Muslim governments to motivate them to play their due role to liberate Al-Quds and defend Palestinian cause, stressing that, "Al-Quds is not an issue of Palestinians alone but Al-Quds belongs to the entire Muslim Ummah."
Hamdan pointed out that thousands of Zionists were brought and settled around Al-Aqsa mosque under a conspiracy that is aimed at building the Temple by changing the demographics of the city, raising Zionist population upto 90 percent and reducing Muslims to fewer than 10 percent so that the world opinion could be deceived by showing Jews as 90% majority.
"The resistance will not allow the plot of Zionist regime and their allies to succeed. We shall liberate Al-Aqsa and Al-Quds from the occupation of Zionist state of Israel. It is the responsibility of Muslims around the world," he said.
Referring to present situation of Gaza in the wake of Israeli invasion, he said, 1.5 million Palestinians were besieged inside Gaza without basic necessities like food, medicines, milk, water etc. and with entire infrastructure of the city destroyed. He said all schools, hospitals and other buildings were destroyed and thousands of tons of cement, iron and other construction material was required urgently to start reconstruction works.
"We believe that resistance is the only way to defeat the Zionist regime and its occupation. God willing, the day will come when the Palestine will be freed from the Zionist occupation," he said, adding that it was foremost duty of Muslims was to put pressure on those countries responsible for Gaza siege and other neighboring countries to open their borders with Gaza so that vital supplies could reach to the Palestinian Muslims.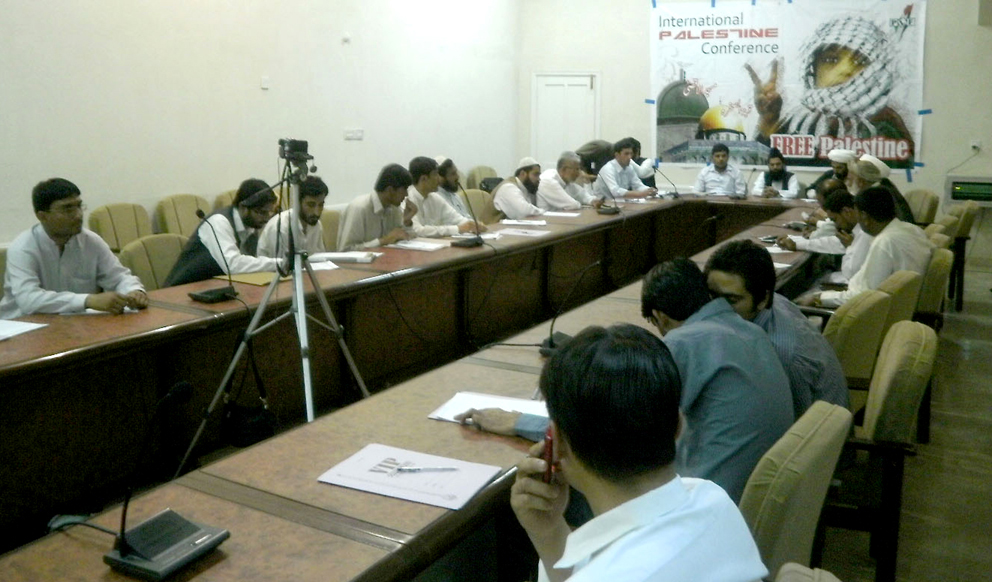 He warned that "Palestinians could never give up their struggle for freedom because of siege. Palestinians prefer honorable death to ignoble compromise and subjugation."
He stressed that Muslims must work to remove American pressure against Palestinian cause which had been the main stumbling block in resolution of Palestinian problem by ending Israeli occupation.
PLF Central Leader Qazi Ahmed Noorani said that today Muslim rulers were scared and these fearful rulers try to appease the U.S. to perpetuate their rule. "The Muslim governments lack courage to raise their voice in support of the oppressed people of Palestine," he said.
He said that during the last ten years, the world witnessed unwavering resistance of Hizbullah and Hamas for a just cause. He announced people of Pakistan's full support for Palestinian nation and said that Pakistanis would not withdraw their just support to Palestinian brothers under any pressure.
"Pakistani people have a history of brotherly and cordial relations with Palestinian people since the day one," he said.
JUI-S Leader said that said that Hamas was the only hope for freedom of Palestine. He said Palestine issue needs sincerity and practical support from the Muslim nations and governments.
Majlis Wahdat-e-Muslimeen Balochistan leader Maulana MAqsood Doomki said that war against terrorism was basically a war against the Muslims. He said this war's hidden aim is to make greater Israel in the heart of Islamic world.
He said that the triumph of Hizbullah and Hamas revived the hope among Muslims.
He underlined the need to observe Youm-al-Quds on the last Friday of the holy month of Ramadan following the appeal of Imam Khomeini.
Local Scholar Maulana Saeed Hashim said that Muslim world should announce clear support to the Hamas and Hizbullah's resistance and boycott Israel and its allies.