Pakistan
PLF has announced countrywide programmes of International Palestine Conference.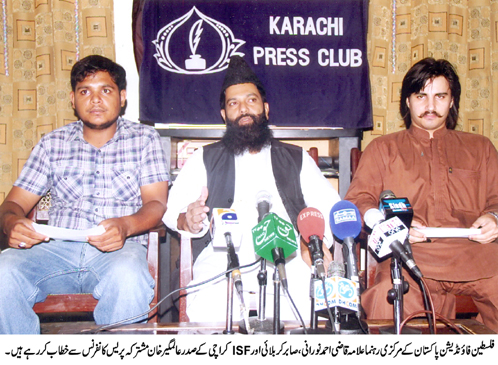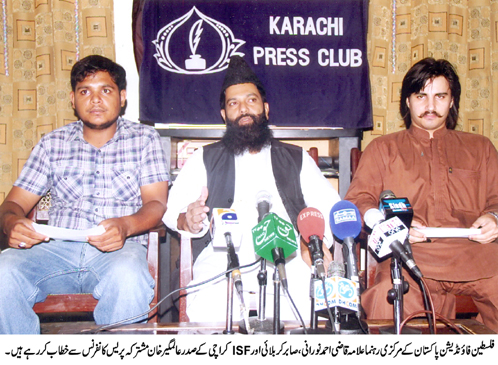 Palestine Foundation (PLF) has announced countrywide programmes of International Palestine Conference to create awareness about the worst conditions of Palestinians under Zionist Israeli siege of Gaza.
The international Palestine conference on "The Cry of Besieged Palestinians" will be held in Pakistan's federal capital and capitals of four  provinces. Dr Osama Hamadan of Hamas, Palestine's democratically elected government's party, will address the conferences via telephone. Pakistan's ruling and opposition parties' leaders will also speak to express their support for Palestine's independence and end to Zionist occupation.
This was announced by the PLF office bearers Qazi Noorani, Allama Aftab Hyder Jafri, Â and Sabir Karbalai, at a press conference at Karachi Press Club on Thursday.
They said that rallies will also be staged across the country to condemn Zionist Israeli occupation and oppression of Palestine and Palestinians.
Karachi-based students and former graduates have formed Palestine Foundation to promote the Pakistan's original ideological stance about Palestine issue. The PLF officials recalled that Pakistan's founding fathers such as Mohammad Ali Jinnah, Allama Iqbal and their political party always opposed imposition of Jewish homeland on Palestinians land. Now, the PLF has its organizational set-up in all over Pakistan.
According to the PLF, International Palestine Conference will be held in Quetta on August 22, in Karachi on August 25, in Peshawar on August 29, in Lahore on August 30, and in Islamabad on September 2.
Pakistan's renowned politicians Federal Minister Dr Babar Awan, Mian Raza Rabbani (PPP), Mushahid Hussain Syed (PMLQ), Sahibzada Abul Khair (JUP), Liaquat Baloch (JI), Raja Zafarul Haq (PML-N), Â Nawabazada Talal Akbar Bugti (JWP), Syed Ghous Ali Shah (PML-N), Allama Abbas Kumaili (JAP), Abdul Rasheed Turabi (JI-Azad Kashmir), Commander Khudaid Khan (ANP), Lashkari Raisani (PPP), Amanullah Shahdazai (PKMAP), Yousuf Shahwani (MQM), Allama Raja Nasir Abbas Jafari (MWM), Senior Anyalst Mansoor Jaffar and others will express their views and renew their support for Palestine at the conferences.