Pakistan
MWM Karachi setup relief fund for flood victims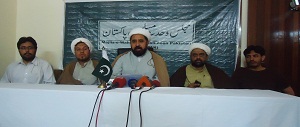 Majlis Wahdat-e-Muslimeen (MWM) Karachi has started relief operation for the affectees of flood disaster under the supervision of Majlis Wahdat-e-Muslimeen Central leader Maulana Hassan Zafar Naqvi to rehabilitate the shelter-less people.
It may be noted here that more than 23000 Saddat and Shia families have been displaced from Jampur, Rajanpur, Leiya, Muzaffargarh, Alipur and others areas due to the disastrous floods in Punjab, Khyber-Pukhtoonkhwa and other parts of the country.
The MWM Karachi leaders appealed to the momineen to come forward to support the Momineens of the affected areas through donating food items, medicine and other daily commodities.
They also setup the fund for the displaced Momineens of affected areas and appealed to the philanthropists to submit their cash and cheque donations on
Account Title: Hassan Zafar Naqvi
PLS 2840-4, Allied Bank Limited, FTC, Branch 0720, Shahra-e-Faisal Karachi.
People will also contact the MWM Karachi office bearers
Messam Abidi 03453438304 and Sammar Abbas 03212407875