Pakistan
Wehdat-e-Millat Convention will hold on 1st August in Islamabad, MWM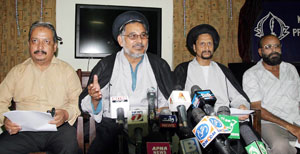 The Majlis Wahdat-e-Muslimeen (MWM) Pakistan on Sunday condemned the targeted killings of Shias across the country and demanded the government to take action against the Taliban and their accomplices.
Leaders of the MWM – Allama Hassan Zafar Naqvi, Mualana Munawar Naqvi and Muhammad Mehdi – in a press  conference at Karachi Press Club also condemned the Sindh government for failing to stop the killings of Shia doctors, engineers and scholars.
They demanded the Sindh government to arrest the people involved in the Ashura, Arabeen and Nishtar park attacks.
They said terrorists were wreaking havoc in Pakistan with the help of the foreign countries America, Israel and India to destablize the country.
They demanded the federal and provincial governments to oust ministers who were supporting banned militants.
The MWM also announced that it would organise a conference in Islamabad on August 1 and a Wahad Millat train would leave from Karachi to Islamabad on July 29.