Pakistan
ASWJ-allied Deobandi Fazalur Rehman elected MMA president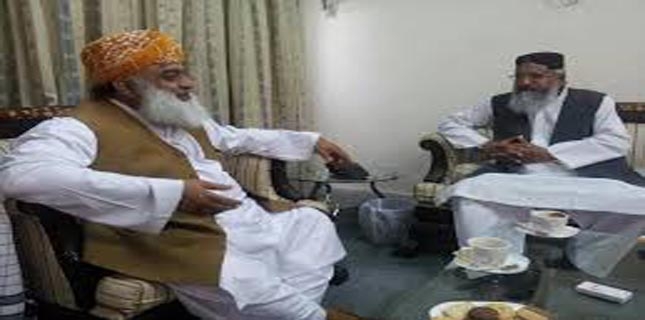 The chief of Deobandi party Jamiat Ulema-e-Islam-Fazl (JUI-F) Fazalur Rehman has been elected as the president of Muttahida Majlis-e-Amal (MMA), an alliance of religio-political parties that always remained under the leadership of a Sunni Bralevi cleric. Fazal is an ally of banned Deobandi takfiri terrorist outfit ASWJ also and always accommodate their notorious figures in his JUI-F and recently he was pictured with ASWJ's ringleaders Ahmed Ludhianvi and Aurangzeb Farooqi who are takfiris and their outfit is infamous as mother of all terrorism in Pakistan.
MMA, in a statement issued on Friday, said that the aim of their struggle was to develop the society and form an Islamic welfare state but Fazal's ties with ASWJ leaders cannot attest to the MMA's claim. The MMA said that all decisions will be made on the basis of consensus, and any attack by non-religious elements will be retaliated but they fail to clarify what their position is on ASWJ's attacks on Shia Muslims. Ahmed Ludhianvi and Aurangzeb Farooqi's hatemongering speeches are an open secret but Fazal hugs them as friends and natural allies.
Sirajul Haq of Jamaat-e-Islami has been elected general secretary of the MMA. It is relevant to add here that Jamaat-e-Islami had parted ways with the MMA due to JUI-F of Fazal who had not resigned from parliament to protest against the Hudood laws during tenure of General Pervez Musharraf.
The MMA has put Shia party Islami Tehreek also known as Shia Ulema Council and Sunni party JUP to test because of Fazal's close ties with the banned takfiri ASWJ, mother wing of Lashkar-e-Jhangvi.