Pakistan
MWM women wing stages demonstration to protest against murder of Zainab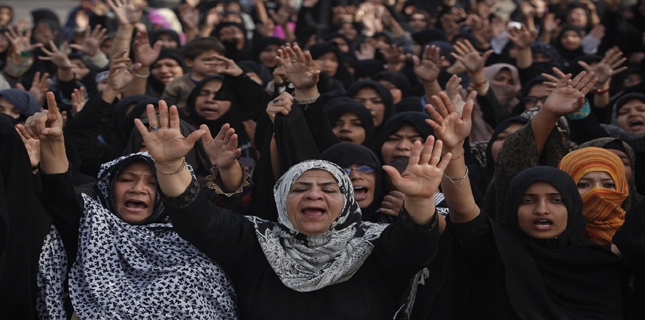 Women wing of Majlis-e-Wahdat-e-Muslimeen (MWM) staged a demonstration outside the Karachi Press Club on Friday (today) to protest against the brutal rape and murder of 8-year-old girl Zainab in Kasur city in Punjab province.
The protesters were raising slogans against the negligence of police and administration and their failure to preempt such heinous crimes in Kasur where 12 such macabre incidents occurred and Zainab's , rape and murder was 13th incident because of inaction of the relevant authorities.
Speaking to the protesters, Syeda Zehra Naqvi, office bearer of MWM, condemned the incident and demanded that the culprits be hanged publicly.
Allama Sadiq Jafari, secretary general MWM Karachi chapter, said that so far the culprits were not arrested that proved the inability and incompetence of Punjab government and police.
They said that concrete steps be taken and needed legislation be approved to ensure capital punishment for the perpetrators of such heinous crimes. They said that the Zainab's murder was a blot in the face of state authorities also. They said empty statements and lip service would not satisfy the people who are demanding justice and the rulers have to shoulder their responsibility by actions and not by words.