Pakistan
Afghanistan: Eleven Shia fell prey to terrorism on Saturday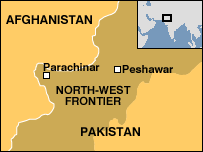 Eleven Shia people fell prey to terrorism on Saturday when terrorists ambushed a Peshawar-bound passenger bus coming from Parachinar in Afghanistan's Waza area.
According to the Shiite News Correspondent, The notorious terrorists of Nasabi's Taliban hit innocent  civilians when the bus was crossing Afghanistan's Waza area in the war-torn country's Paktia province.
The bus had initially departed from Parachinar and was on its way to Peshawar via Afghanistan.
Despite tall claims of the counterterrorism forces of Pakistan Army, terrorists have full control of the areas leading to Kurram Agency. Due to closure of the Tull-Parachinar road because of terrorism, Shia residents of Pakistan's tribal area namely Kurram Agency take the Afghanistan route to reach Peshawar, provincial capital of Khyber-Pakhtoonkhwa province.
The victims were said to belong to the Khushi tribe in the Kurram Agency.
The relevant authorities had recently claimed that they had eliminated a terrorist network in Kurrum Agency but closure of the Peshawar-Parachinar road is a proof that they were wrong in saying so.
Victims' relatives and independent analysts condemned terrorists and the government alike for attack and failure to prevent attacks respectively.
"These are Nasbi-Salafi terrorists who have always been oxygenated by the Zionist-Wahhabi alliance and by their allied governments and allied intelligence networks across the world, said an independent observer.
Pakistani branch of this terrorist network is known as Sipah-e-Sahaba whose off-shoot Lashkar-e-Jhangvi follow the nasbi-wahabi ideology hijacking the Deobandi ideology. However, theory-makers are of the views that these terrorists cannot work freely without fifth column within the powerful quarters.
Analysts cite that shrines of religious saints, mosques, Imam Bargahs, army headquarters and innocent civilians were attacked by these terrorists.
Public opinion is convinced that the United States benefit from terrorism in this region because terrorism is cited as a justification to prolong the U.S. military stay in Afghanistan.