Pakistan
Punjab Government patronize the banned terrorist outfit, Abbas Kumaili & Shahid Ghori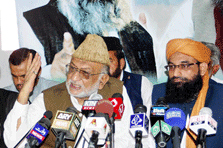 Jafaria Alliance Pakistan Chief Allama Abbas Kumaili on Tuesday said that the attack on Shrines and target killing of innocent people from opponent sects are the conspiracy to end the religious freedom.
Addressing the press conference at Markaz-e-AhleSunnat alongwith Sunni Tehreek Central leader Shahid Ghori, Allama Abbas Kumaili said that a religious school of thought in the country wanted to impose their ideology on Pakistani people.
He said that Sunni and Shia's have same belief about the respect of Shrines and saints and vowed that they would protect the Shrines from the terrorists. Allama Kumaili alleged that some political parties were supporting the terrorists, adding that the courts release the terrorists because of lack of evidences. He said that if the culprits of Nishtar Park, Ashura and Arbaeen blasts were held, the incident of Data Darbar was not occurred. He said that terrorists got freed four notorious terrorists involved in the Ashura blast from the City court due to the inefficiency of Government and Law Enforcement Agencies. He said that terrorism was not like a corruption it was the grave threat for the stability and sovereignty of the country and asked that why the Judiciary cannot itself take the action against terrorism acts. On the occasion, Sunni Tehreek Central leader Shahid Ghauri said that Karachi becomes the hub of terrorists after the Swat operation adding that Law Enforcement Agencies knew about the Madaris and organizations, where the terrorists have. He said that Punjab law minister Rana Sanaullah is supporting banned outfits for taking the votes from terrorists saying that it is unbearable. He asked that why the Television Channels invited the leaders of banned outfits and underlined the need to establish the special courts to punish the terrorists.
Shahid Ghori said that people in the government ranks, who offered to broker the negotiation with Taliban's, are the real Taliban's.
Earlier, Jafaria Alliance delegation led by Allama Abbas Kumaili, Molana Hussain Masoodi, Allama Baqar Zaidi and others called on the Sunni Tehreek leader Shahid Ghoir at ST office to express condolence on the Data Darbar incident.