Pakistan
Jaffaria Alliance delegation meets Mufti Muneeb-ur-Rehman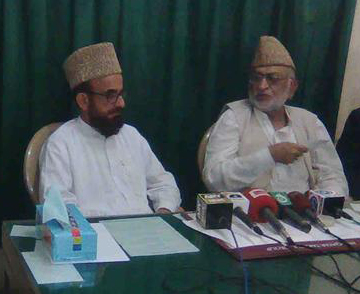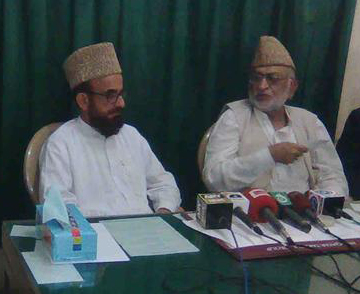 Jaffari Alliance Pakistan (JAP) delegation led by Allama Abbas Kumaili on Sunday called on the Sunni Rehbar Council Chief Mufti Muneeb-ur-Rehman at Jamia Naeemi to express condolence on the incident of Data Darbar.
Jafaria Alliance Pakistan (JAP) Vice President Maulana Hussain Masoodi, Allama Nisar Ahmed Qalandari, Allama Baqar Zaidi, Sabir Karbalai, Shabar Raza accompanied the JAP leader in the meeting.
According to the Shiite News, Jaffaria Alliance President Allama Abbas Kumaili said that imperial and congressi agents Taliban, Sipaha-e-Sahaba, and Lashkar-e-Jhangvi terrorists were involved in Data Darbar incident and ongoing target killing of Shia Muslims in Karachi saying that through performing such heinous crimes these terrorists wanted to defame Islam and Pakistan.
He said that Pakistan was founded by the Shia and Sunni Muslims adding that these congressi (Indian) agents had staunch opponent of the foundation of Pakistan and still they are hatching the conspiracies against the country to destabilize Pakistan.
He alleged that outlawed Sipah-e-Sahaba and Laskhar-e-Jhangvi openly spread the sectarian hatred among the common people but government has closed its eyes on the terrorism activities of banned outfits.
Allama Kumaili further said that Punjab government patronage the terrorists outfits saying that the Ministers of Punjab government have a close ties with the leaders of outlawed organizations.
He said that Taliban and outlawed organizations terrorists have links with United States, Israel and India saying that these terrorists were killed the innocent people, armed forces persons and worshippers on the directives of anti-Islam and anti-Pakistan forces.
"There is no dispute between the Shia and Sunni" he said and added that foreign powers were hatching the conspiracies to create Shia-Sunni dispute in the country for their evil desires.
He urged the Muslims of the country to be united to eliminate the terrorists from the country.
Mufti Muneeb-ur-Rehman said that thanks the Jaffaria Alliance leaders to come his seminary for the condolence of Data Darbar incident.
He said that Government has failed to eliminate the terrorists from the country saying that its looks that all the government machinery was working for their personal interest.
He regretted that Government was not taken the serious actions against the terrorists.
He further said that Ministers must not forget that they are bestowed with these positions only due to the blessings of Saints.
Mufti Muneeb said that pilgrims and shrines were attacked by the terrorists in the government of Mukhdooms (custodian of shrine).