Pakistan
Rehman says Sipah-e-Sahaba, Lashkar-e-Jhangvi are 'paid killers'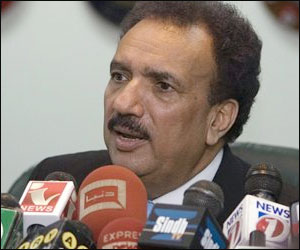 ISLAMABAD: Interior Minister Rehman Malik Friday said Sipah-e-Sahaba and Lashkar-e-Jhangvi are still active and functioning as paid killers.
Addressing an inaugural ceremony of a newly built building of Shahzad Town Police Station here, the Interior  Minister said the terrorists are now targeting Punjab after facing defeat (in other parts of the country).
He said those who attack 'Data Ki Nagri' are worse than 'Kafirs' (infidels).
Rehman Malik said Lashkar-e-Jhangvi and Sipah-e-Sahaba have taken money in advance from enemies with the help of Tehreek-e-Taliban and al-Qaeda.