Pakistan
Maulana Nazim, two clerics court arrest in protest against missing Shias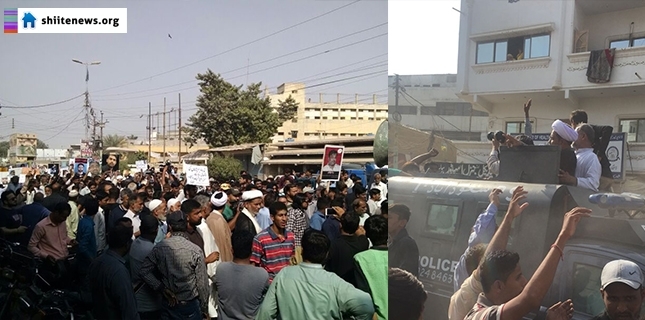 Maulana Nazim Ali Azad and his two comrades courted their arrest, here on Friday in third phase of the ongoing Jail Bharo Tehreek as taken of protest against the enforced disappearance of many Shia youths, notables and scholars in all over Pakistan.
The arrests were courted outside the Jamey Masjid Darbar-e-Hussaini in Malir where thousands of Shia Muslims gathered to express their solidarity with the Missing Shia Release Committee's protest campaign and Fill the Jails Movement. They also staged a demonstration where Allama Maqsood Domki, Maulana Nazim Azad and others spoke.
They warned that Government would be held responsible if any harm is caused to Allama Hassan Zafar Naqvi because of hunger strike in protest against the enforced disappearances. They said entire defenders of human rights have supported this legitimate protest, let alone Shia community.
Maulana Nazim said that he, Maulana Nisar Chandio and Maulana Sakhawat Ali were courting their arrests to awaken the government that was in slumber. He said that innocent Shia Muslims should be released forthwith.
Nonagenarian father of missing rights activist Syed Samar Abbas also participated in the protest demonstration. He was carrying a portrait of his son who was illegally taken away in Islamabad.
The demonstrators were carrying banners and placards inscribed with demands that the missing Shias should be released or produced before courts if there was any case against them.