Pakistan
95% missing Shias have no link with any organization says Allama Ahmed Iqbal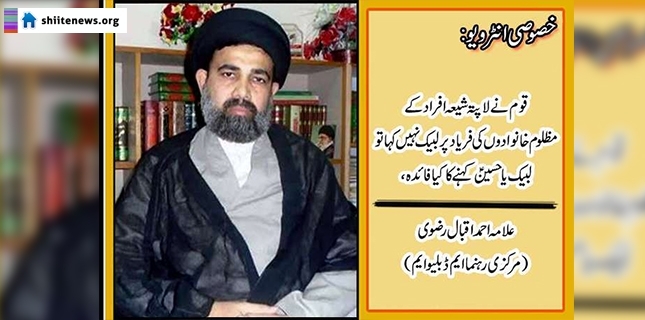 The deputy secretary general Majlis-e-Wahdat-e-Muslimeen Allama Ahmed Iqbal has said that hardly 5% missing Shias belonged to any Shia party while 95% of them have no affiliations with any Shia party.
In an interview, he said, these Shia Muslims were picked up from their house at nights without any charge against them. He said that no security agency had come forward to own their arrests hence nobody knows why they were rounded up like this way.
He said that there were reports that CTD police and police were involved in this witch-hunt. He said that some had complained that Military Intelligence too had picked up some of them while ISI too might have been involved in some cases. He said that it was cent percent legitimate demand from their heirs and supporters that if there was any charge against them, they should be produced in court for trial so that they could defend them legally or they should be released forthwith.
Allama Ahmed Iqbal said that there must be no jungle law in Pakistan. He said Pakistani Shias believe in rule of law and law of Pakistan recognizes freedom and other fundamental human rights of all Pakistanis hence he demands rule of law and under that immediate release of missing Shias.
He said that they are running Jail Bharo Tehreek (Fill the Jails Movement) to express solidarity with the affected families of the missing Shias because it was an issue of violation of fundamental human rights.