Pakistan
Indian Army Chief says War with Pakistan and China at the same time cannot be ruled out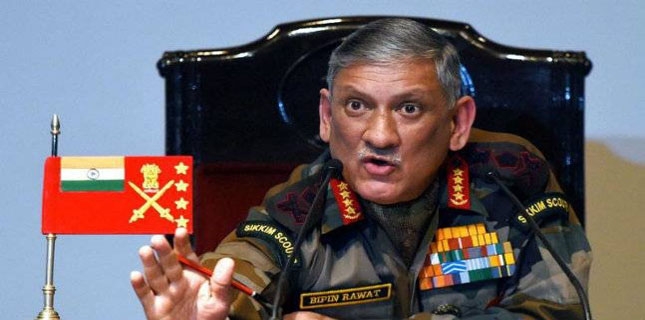 A two-front war – where India has to fight Pakistan and China at the same time – cannot be ruled out, Indian Army Chief General Bipin Rawat has warned. "War is very much in the realm of reality," Chief of Army Staff General Rawat said at a seminar yesterday in New Delhi.
General Rawat said it is a "myth" to assume that "democracies or nuclear armed" neighbours don't go to war.
Pakistan believes that India is its main enemy and has launched a proxy war against India. "Differences with Pakistan is irreconcilable," he said.
Referring to the recent stand-off between Indian and Chinese troops at Doklam plateau in Bhutan General Rawat said China has already started flexing it's muscles.
The General said more incidents like the stand-off at Doklam plateau in Bhutan cannot be ruled out.
China, he said, will continue to try and nibble away Indian territory. Taking away territory gradually – salami slicing will continue as China tests our limits and thresholds is something India will have to be prepared for, he said.
Drawing out a scenario, the Army chief said, Pakistan could take "advantage" when India is engaged with China. "We have to be prepared for conflict on the northern and western borders," he said.
General Rawat said believing there will no war – as some are akin to – affects the modernisation of forces. Such thinking affects budgetary allocation, he said and added that militaries don't only go to war, nations go to war for which we must prepare ourselves accordingly.
On a separate plane, General Rawat also drew attention to the "shrill media" and the effect it has on decision making.