Pakistan
MWM announce to besiege the Parliament and provincial assemblies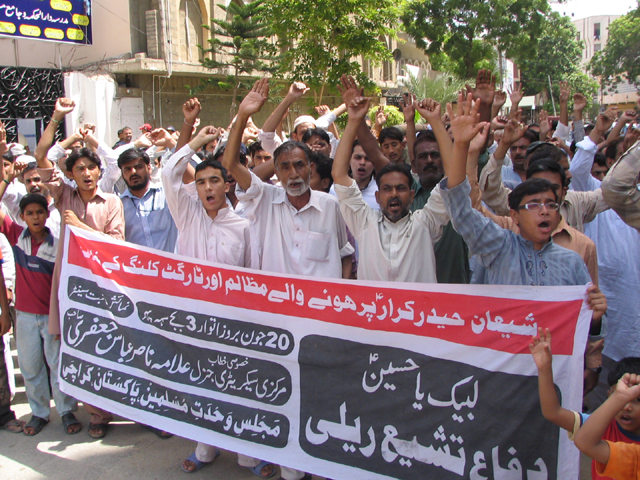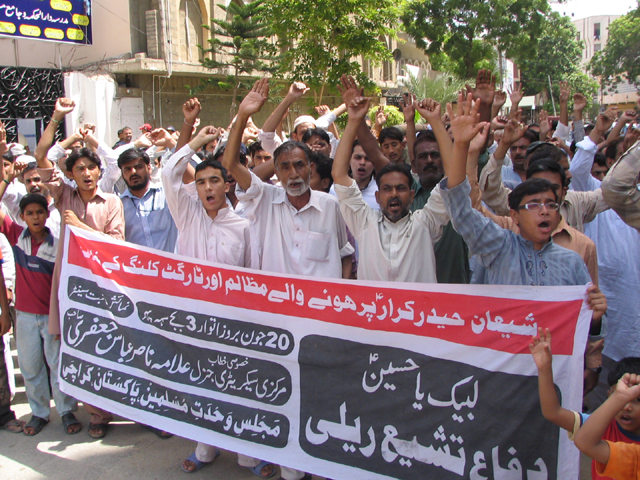 Although the government of Sindh has imposed a ban on the public meetings till June 30, the Majlis-e-Wahdat-e-Muslimeen (MWM) was staged demonstration across the Sindh Province including Karachi against the targeted killings of the Shia Muslims.
According to the Shiite News Correspondent, The Central protest demonstrations in Karachi were held at Noor-e-Eman Mosque Nazimabad, Jamia Masjid Mustafa Abbas Town and  Jamia Masjid Hussaini Sifart Khana Malir to condemn the failure of the government to arrest the terrorists involved in the killing of Shia Muslims.
Addressing the central protest demonstration held MWM leaders Ali Ausat, Salman Hussaini and others warned the government if the terrorists involved in the killing of Shia Muslims will not arrested then the Shia Community would be besieged the Provincial Assemblies and Parliament.
They  vowed to stage the protest rally come what may, as they said they were tired of carrying dead bodies on their shoulders. "Within a month, we buried more than a dozen followers with all the sorrow and anguish", they said.
They condemned the ban imposed for those who protesting against terrorism while the murderers were at large. "What kind of law is this", they asked. The government, they said, seemed to be helpless in apprehending the terrorists as, they alleged, most of the high officials in the government having the relations with banned outlawed organizations of Sipah-e-Sahaba and Lashkar-e-Jhangvi.
They said that MWM "Defa-e-Tasheo campaign" would later be converted into, "Defend Pakistan", admitting that security of Pakistan was at risk as the government they alleged had bowed down before thee Zionist lobbies, mainly the US and Israel.
Despite the ban on public meetings, they said that a protest rally would be staged from Old Numaish on Sunday 20th June in which Ulema from across the Sindh province and MWM Central General Secretary Maulana Raja Nasir Abbas would be in attendance, they vowed.
They criticized the political and religious parties over their support to the outlawed terrorist's outfits saying that the support of these political parties to the terrorist's organization would promote the sectarian violence in the country.
They urged the government to arrest the terrorists of outlawed organization to maintain the religious harmony in the country.