Pakistan
Karachi:- Shia Doctor Hassan Haider embrace Shahadat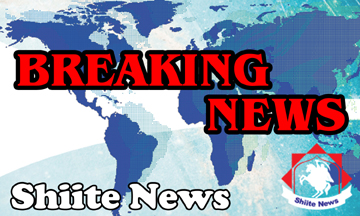 Karachi:- Shia Doctor Hassan Haider embrace Shahadat
Dr Syed Hassan Haider Bukhari, 35, was martyred by terrorists of outlawed outfit Sipah-e-Sahaba (Nasibi's) in Kalpul area near Defence Society, Karachi.
According to the Shiite News Correspondent, Dr Syed Hassan Haider Bukhari son of Syed Kausar Haider Bukhari was killed by the Nasibi's terrorists at 9am on Thursday at Kalapul Defence, When he was returning to home after completing his night duty at National Medical Center Kalapul Defence Area.
He received three bullets in his head," said local police officer. The target killing of another Shia doctor in Karachi is the part of ongoing sectarian target killing of the Shia community in Karachi.
He was belongs from Sailkot Punjab. After the Funeral prayer his body will be departed to Sialkot for the burial.
The enemies of Islam ,Pakistan ,Muslims and Momineen must not forget what a genius like Hazrat Ali (AS) had said centuries ago : The nations which come out of bloodbaths have greater generations.
The Nur of the exalted Martyrs will radiate forever, illuminating the lives of Millat-e-Jaffaria Pakistan and certainly their pure blood has its own ways to leave lasting impacts .Inshallah it will pull of the masks from the faces of yazidi terrorists,their local mentors and International Collaborators
Dr Syed Hassan Haider Bukhari, 35, was martyred by terrorists of outlawed outfit Sipah-e-Sahaba (Nasibi's) in Kalpul area near Defence Society, Karachi.
According to the Shiite News Correspondent, Dr Syed Hassan Haider Bukhari son of Syed Kausar Haider Bukhari was killed by the Nasibi's terrorists at 9am on Thursday at Kalapul Defence, When he was returning to home after completing his night duty at National Medical Center Kalapul Defence Area.
He received three bullets in his head," said local police officer. The target killing of another Shia doctor in Karachi is the part of ongoing sectarian target killing of the Shia community in Karachi.
He was belongs from Sailkot Punjab. After the Funeral prayer his body will be departed to Sialkot for the burial.
The enemies of Islam ,Pakistan ,Muslims and Momineen must not forget what a genius like Hazrat Ali (AS) had said centuries ago : The nations which come out of bloodbaths have greater generations. Â  Â  Â Â 
The Nur of the exalted Martyrs will radiate forever, illuminating the lives of Millat-e-Jaffaria Pakistan and certainly their pure blood has its own ways to leave lasting impacts .Inshallah it will pull of the masks from the faces of yazidi terrorists,their local mentors and International Collaborators
Back to top button
Adblock Detected
Please consider supporting us by disabling your ad blocker