Pakistan
PLF Rally at US Consulate in Karachi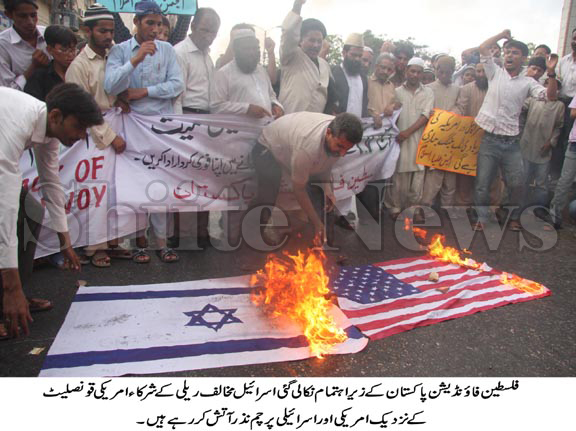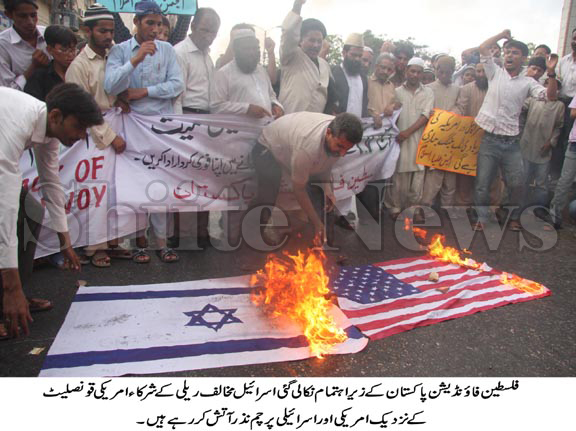 The Palestine Foundation (PLF) Pakistan on Monday took out the protest rally from Karachi Press club to American Consulate, which was led by the Palestine Foundation and religious parties' leaders including Jafaria Alliance President Allama Abbas Kumaili, Majlis-e-Wadat-e-Muslimeen Central Leader Maulana Hassan Zafar Naqvi, KPC President Imtiaz Faran,and others spoke the protestors near at US Consulate in Karachi.
Addressing the protest rally near at US Consulate, the leaders strongly condemned the deadly raid of Israeli forces on the Gaza-bound aid convoy and urged the Muslim of the world to be united and stand against the act of Zionist state.
According to the Shiite News Correspondent, They demanded of the Government of Pakistan to immediately summon the US ambassador over the brutal and inhuman act of Israel on aid convoy saying that Israel is the illegitimate child of Israel.
The leaders further said that the deadly attack of Zionist regime on aid convoy freedom flotilla proved that the Israel is the terrorist state in the world.
"The peace in the world especially in the Middle east would not possible until the elimination of Zionist state Israel" they added.
Condemning the attack on aid convoy freedom flotilla, PLF leaders termed that the Israeli occupation forces attack on aid convoy was a symbol of Israeli terrorism and brutality.
They demanded of the United Nation, OIC, Arab League, European Union and other Human Rights Organization to immediately take the stern action against the regime over their deadly attack on aid convoy.
The leaders urged the allies of Zionist regime Israel to stop supporting the illegitimate zionist state, which involved in the killing of innocent Palestinian people and also stormed on the Gaza-bound aid convoy freedom flotilla.
They further said that this is the time to take a resolute stance against the recurring crimes of the zionist regime Israel.
They demanded of the Government to immediately recovers the Pakistani Journalists Talat Hussain and Raza Agha from the illegal detention of Israel.
The convoy, compromised of nine ships, was carrying 10,000 tons of supplies and hundreds of politicians, activists and journalists. 
The Flotilla was seeking to break Israel's crippling blockade of Gaza and deliver basic necessities to the impoverished Palestinians living in the coastal enclave.