Pakistan
Funeral prayer of Shaheed Shahzad offered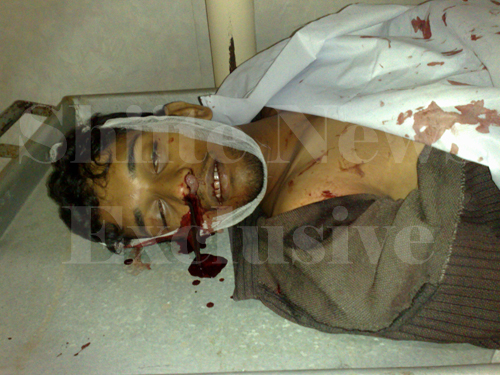 Namaza-e-Janaza (funeral Prayer ) of Syed Shahizad Hussain son of Syed Riaz Hussain, who was shot dead by the terrorists of outlawed Nasabi's outfit Sipah-e-Sahaba on Friday night at Habib Bank Quarter's Orangi Town, was offered at Shah-e-Karbala Mosque (Rizvi Society) Karachi.
According to the Shiite News, Thousands of mourners have attended the funeral prayer of Shaheed Shehzad Hussain and chanting the slogans against the terrorists outfit involved in the killing of innocent Shia Muslims in the Country.While body of Shaheed Shahzad Hussain was laid in Wadiya-e-Hussain graveyard.
The outlawed terrorists outfit Sipah-e-Sahaba presently used the name of AhleSunnat WalJamaat (ASWJ) , is a terrorist organization that is involved in the murder of several hundred Shia and Sunni Muslims in Pakistan.The Nasabi terrorists were also involved in anti-state activities. These terrorists are trying to show themselves as Sunni, by keeping the name like ASWJ to deceive the common people of Pakistan but the prominent AhleSunnat Organizations of the Country inclduing Markazi Jamaat-e-AhleSunnat,Sunni Tehreek and Sunni Ittehad Council were disclosed the real face of these notorious terrorists infront of masses . It's common practice of Sipah-e-Sahahba or Lashkar-e-Jhangvi to change the name, as they can easily carry on their terrorist's activities.
The Shia leaders demanded of the Government to take stern action against the terrorists of outlawed organization and arrest the culprits involved in the killing of innocent Shia Muslims.