Pakistan
MWM delegation leaves for Attaabad to take stock of the situation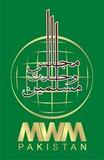 A four-member delegation of the Majlise-Wahdate-Muslimeen (MWM) led Central deputy secretary general of MWM Allama Ameen Shaheedi has left here for Attaabad, Hunza to know the latest situation of the area arising out of the flood in the Attaabad Lake.
 The delegation comprising Maulana Ijaz Beheshti, Secretary Youth Affairs, Allama Mirza Yusuf Hussain, Member central Guardian Council of the MWM and Allama Hussain Noori, member Central Advisory Council in this visit will review the relief work in the affected areas and get estimation of the needs of the affected persons.
 The delegation also would review the activities of the 6ooo people 'Madadgar Force' set up and sent by the MWM to help the stranded people in Attabad, Basham and other affected areas.
The delegation also met with the affected people there and take into consideration the miseries of the people arising before and after the flood to formulate strategy to help the victims. The aim of the activity is to rehabilitate the affected people as early as possible.