Pakistan
Balochistan Shia's to hold rally on May 23rd in Quetta against the genocide of Shia's in Balochistan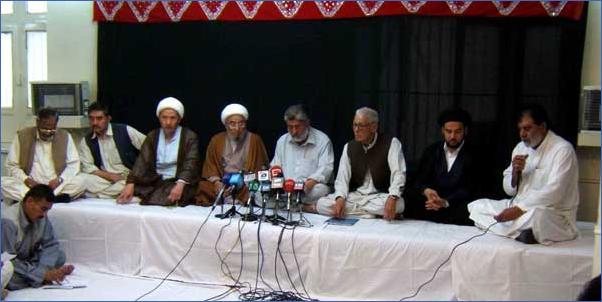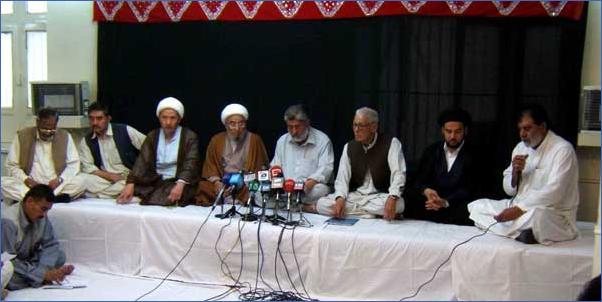 Balochistan Shia leaders demanded of the Government to take stern notice of these terrorist attacks and target killings aimed at terrorizing the innocent people. They condemned the killing of innocent Shia Muslims in Balochistan and asked the Provincial government to arrest the terrorists involved in the killing of innocent people.
According to the Shiite News Correspondent, The leaders representing the Balochistan Shia Conference, Shia Ulema Council, Hazara Qaumi Jirga, Jafaria Alliance, Traders alliance and other organizations representing Shia Community Balochistan announced to form a coalition named Organizing Committee of Shohada-e-Balochistan.
Addressing the press conference at Punjabi Imam Bargah Quetta, Balochistan Shia Conference President Ashraf Zaidi, who is also the president of Shohada-e-Balochistan Organizing Committee, announced that it has been decided to invite all Ulemas and active organizations of Pakistan on 23rd May at Quetta to hold a meeting and peaceful rally against terrorist attacks and target killings of Shia Muslims in Balochistan.
He revealed that, on this occasion, the future initiatives will be chalked out as the Government has, significantly, failed to provide security and protection to the citizens. He said that they are invited Jafaria Alliance President Allama Abbas Kumaili, Tehreek-e-Jafaria Chief Allama Sajid Ali Naqvi, Majlis-e-Wahdat-e-Muslimeen Secretary Allama Raja Nasir Abbas, Tehreek-e-Nifaz-e-Fiqah jafaria Chief Agha Hamid Ali Shah Moosavi and other notable clerics and personalities across the country to decide the strategy of Shia Community.
He also condemned apathy and lax attitude of the Governor, Chief Minister, his cabinet members, members of Balochistan Provincial Assembly and the Balochistan Executive who have not only turned deaf ear to these atrocities and cruelties but also have never condoled to the aggrieved families of these martyrs, which is against the spirit of constitution and democratic values.
The President of Organizing Committee, Shohada-e-Balochistan, also quoted the speech of the Provincial Interior Minister who had said that they had known who the terrorist had been, when making a speech on the floor of the assembly. He demanded of the Provincial Government to step down as there is no moral ground to hold the reign of the government anymore after a series of target killings and terrorist attacks in Balochistan.
He, however, made it clear that the rally and gathering of 23rd of Mary, 2010 will be completely peaceful and requested all citizens to take part in this rally to show their unity and fraternity towards other brotherly nations.
At the end of the press conference, the Organizing Committee of Shohada-e-Balochistan set out their demands from Federal and Provincial governments which are as under: Â 

That serious notice of the recent wave of terrorism and target killings happening in Mastung, the constituency of Chief Minister Balochistan, be taken and those involved in these target killings and terrorist attacks should be arrested and brought to justice. 
That the absconded terrorist Usman Saif Ullah Kurd, mysteriously escaping from ATF jail, be apprehended and brought to justice in accordance with the verdict of terrorist court.
That the government should make honest efforts to ban all literature, books, journals, magazines, newspapers, booklets and pamphlets which fan sectarianism and sow seeds of hatred among people.
That the routes of Hangu And Parachanar be freed from the unlawful control of terrorists and the Shias' life and property, living in FATA be provide complete protection and security.
That those terrorists found guilty in terrorist courts be punished without any delay.
That announcement of monetary compensation for the families of martyrs is insulting. We demand of the government to announce reasonable monetary compensations for families of the martyrs and these announcements be action at an earliest.
That we demand of the Federal Government to take pragmatic steps for restoration of law and order in Balochistan without any delay.
That the defunct terrorist organizations should not be allowed to function discreetly by mere change of names, they should not be allowed to hold rallies, demonstrations and protests and unlawful organizations be dealt with iron hands.
That we have complete faith in Shia Sunni Unity and every ill-effort by enemies of Islam will be foiled against this unity. We pronounce that we will firmly protect Islam and Mohammad Peace be upon him and his progeny forever