Pakistan
ISO America Murdabad Rally in Karachi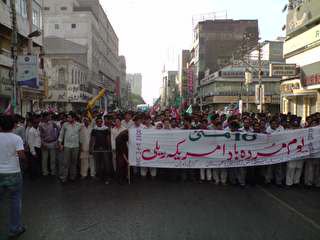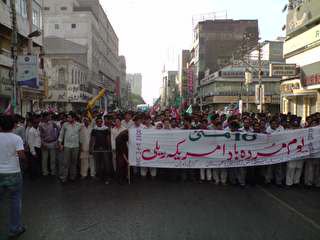 Imamia Students Organization (ISO) Karachi on Sunday took out "America Murdabad Rally" from Numaish Chowrangi to Karachi Press club against the against the intervention of United States  in the Muslim world and illicit foundation of Zionist regime Israel.
Sunday 16th May, 2010 is to be remembered where Pakistani Muslim's under the supervision of ISO, Palestine Foundation (PLF) Pakistan and other organization rallied masses demonstrating against the illicit occupation of Israel upon Palestine.
According to the Shiite News Correspondent, The event was record as "Youm-e-Murdabad America" (Day to condemn America), which is being obsevered on the directives of Shaheed Quaid Allama Arif Hussain Al-Hussaini.
Thousands of men, women and children were participated in the rally against the oppression and fostering of a Zionist State – Israel and US intervention aiding the illegal occupation.
Large scores of people showed up for the demonstrations whereas speeches were made in favor of an independent state of Palestine, demeaning Israel and America's intervention in the state.
Addressing the rally, Noted religious scholar Maulana Munawar Naqvi , Allama Salman Hussaini and ISO Karachi President Zain Ansari  strongly condemned the criminal silence of Muslim rulers on the brutality of Israel against the oppressed people of Palestine.
For the past 63 years, the orators pointed out, the Zionist Regime has usurped the land from the Palestinian people, committing International War Crimes, whereas the entire Muslim Ummah remains unperturbed.
They demanded for embargoes over the Zionist regime Israel criticizing the criminal negligence of Muslim and Arab rulers, condoning them to be a party to the atrocities in the region. They emphasized on the need for Ummah to recuperate over their lost values and realize the dire need for an alliance serving the salvation of their Palestinian muslim brothers. Escalating the front Hizbullah and Hamas has trailed over the years against the Zionist establishment; they urged masses to be an enthusiast and follow lead. They further enlightened the gathering on Goldstone's report to UN and promised perusal of a petition with them against the war crimes leaving Palestine under air imprisonment for the past 3 years.
During the rally, ISO, Hammas, Hizbullah, and Pakistan flags were hoisted among the participants whereas some partaker torched the flags of United States and Zionist regime Israel chanting "America Murdabad" (Down with America) and "Israel Na'manzoor" (Veto Israel)
End.