Pakistan
World will see the end of Zionist state Israel soon, Palestine Foundation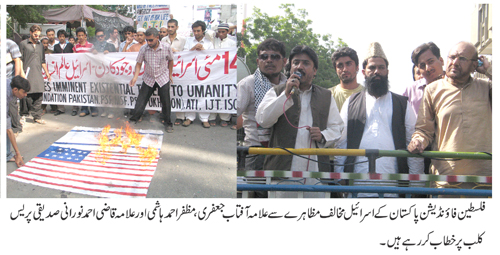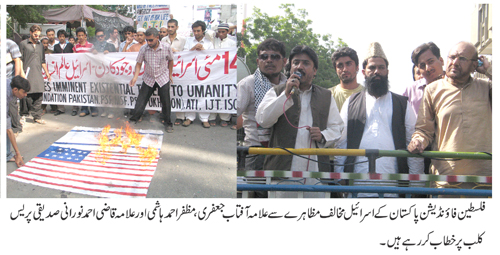 Leaders of the Palestine Foundation Pakistan (PLF) on Friday predicted that people will see the end of Israel soon and the occupied land of Palestine will be free from the illegitimate occupation of Israel.
Addressing the protest demonstration held outside the Karachi press club against the foundation day of illegitimate state of Israel, Palestine Foundation leaders Allama Qazi Ahmed Noorani Siddiqui, Allama Aftab Haider Jaffari, Muzaffar Ahmed Hashmi, Sabir Karbalai strongly condemned the criminal silence of the world on Israeli atrocities against the innocent people of Palestine.
 
 
The participants of protest demonstration chanting the slogans Down with America (America Murdabad) and Down with Israel (Na'manzoor" Israel) and also torched the America and Israeli flags. 
They applauded the heroic struggle of Hezbullah and Hammas against the Zionist regime Israel and asked the Muslim rulers to come-forward for the support of oppressed people of Palestine, who are suffering the brutality of Zionist regime from the last 62 years.
For the past 63 years, the orators pointed out, the Zionist Regime has usurped the land from the Palestinian, committing International War Crimes, whereas the entire Muslim Ummah remains unperturbed. 
They urged the Ummah to come around and rise, taking action in favor of the Palestine State. They emphasized that independence of the State can only come through hardships, struggle and religious passion. They said that Pakistan is with Palestinian nation and will stand by them at all platforms irrespective political or moral. 
PLF leaders urged the Muslim and Arab rulers to take concrete steps to resolve the Palestine issue and asked the International community to play their role to end the besiege of Gaza.
They said that the Israel poses the imminent existential threat to entire world and without the elimination of Israel the peace of the world will not possible.
"Founding fathers of Pakistan and Pakistani nation had opposed the unjust division of Palestine and Zionist state in any part of undivided Palestine when the Jewish state was brought to the knowledge of Muslims of undivided India," they said
End.