Pakistan
WAHABI TERRORISTS KILLED SHIA DOCTOR IN KARACHI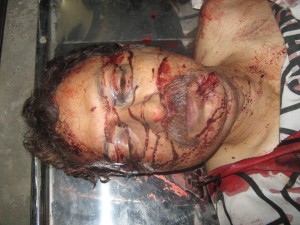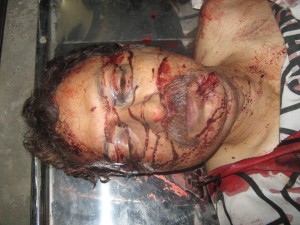 Terrorists of outlawed Wahabi Organization on Monday night martyred Shia Doctor Haider Abbas at Metrovil III in Karachi.
According to the Shiite News Correspondent, Police officials were suspecting his killing as a result of sectarian violence.
 
Police officials said that two armed men on a motorcycle targeted and shot him thrice when he on his Toyota Corolla car bearing registration number C-2933, was on the way to AKM specialist hospital in Mominabad to attend the patients. The deceased died on the spot as he sustained bullets in his face and head. His body was moved to Abbasi Shaheed Hospital for an autopsy. Police officials said that the incident took place near Metrolines hospital located at Metrovil SITE, within the limits of SITE 'A' Section police station soon after he left the hospital to make his presence in another AKM specialist hospital. DSP Rao Iqbal said that apparently, it seems an incident of sectarian killing and investigation is underway. No case was registered till the filing of this report. The deceased was a resident of Saddat Colony Block-20, Federal 'B' Area and was the father of two daughters.
The mayhem continues of the Notorious Gang fuelling the hatred among the sectarian rivals, targeting innocent bystanders and intellectuals; in particular of the Shiite community.
Fed with Zionist Agenda to harm the sanctity of Islam, these off-putting powers – the offshoots of Pagan, have been working against the forces of Islam since their patron went against the will of Almighty and never prostrated Hazrat Adam (A.S). It cannot be put past them to go beyond any means to harm the deity of our Almighty Allah, Muhammad (SAWWS) and his Progeny (A.s). It is upon realization to this failure that they stoop to levels beyond imagination; mass killing, staged bombings, gorilla warfare etc. targeting muslims who have the will to unravel and expose their true identity.
Government officials remain allay and no statement has been issued as yet. This whole year, since the heartrending incidences of Ashura and Arba'een our community lives on false pretence; an environment where security is never compromised. Yes! It remains a housemaid to elites enrolled in government enjoying the benefits of security protocols beyond imagination; whereas citizens remain too stressed with financial concerns, load shedding, outrageous prices of utilities, etc. All issues pending are concealed with petty issues for populace to fondle over for months to come with justice molested under heaps of files.