Pakistan
'Take Down your Alams, Accept Daesh Islam or Be Killed', ISIS Threaten Shias in DI Khan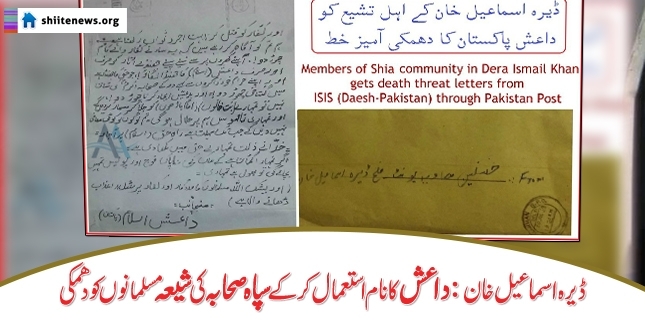 Daesh profess to kill Shias across DI Khan should they not change their religion and take down their flags (Alams).
An envelope bearing a threat letter has been delivered to shiites across Dera Ismail Khan demanding allegiance to ISIS or be killed.
News prevail on social media with images of a threat letter stating "to kill an infidel is highly abounding and bountiful in the eyes of Islam, unless you pledge allegiance to ISIS and take down the Flags (ALAM) from your houses, lest be ready to be killed."
The message was clear accept our form of Islam or be mutilated. Shiites remain the only faction that has defended the true essence of Islam in 1400 years of history and have shed innocent blood for its sanctity.
The letter portrayed to be of ISIS, actually has been hand written by Hussain Muawaiya Unit of the proscribed Sipah Sahaba Pakistan (SSP). ISIS has no structure of erecting UNIT in the country or anywhere in the world, the UNIT structure in DI Khan particularly (Hussain Muawiya Unit) is of SSP.
Shiite leaders from varied organizations and clerics have appealed the authorities to take immediate notice of the said.
The banned SSP is using ISIS (Daesh) guise to enforce its ulterior motives and hidden agendas. Earlier SSP had used COAS and DG rangers photos in their banner to malign the military establishment, posing to have their patronage in their cause.