Pakistan
12 injured in blast near private hospital in Quetta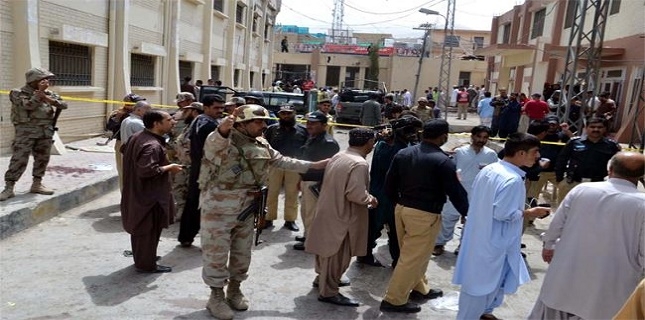 At least 12 people were injured in a blast near Akram Hospital in Zahrgoon Road in Quetta on Thursday, Express News reported.
Several are feared injured in second such blast in three days in the city. CM Balochistan Nawab Sanaullah Khan Zehri has condemned the attack.
According to Balochistan Home Minister Mir Sarfaraz Bugti, the bomb was planted beneath a bridge. "Balochistan Federal Shariat Court Judge Zahoor Shawani was the target. His CTF squad was injured," Bugti said.
On Monday, at least 70 people, nearly half of them lawyers, were killed and more than a hundred wounded in a suicide attack targeting mourners gathered at a state-run hospital. The Balochistan government announced three days of official mourning for the victims of the terrorist attack, one of the deadliest in the country's history.
The bomber struck as a crowd of lawyers and journalists crammed into the Emergency Department of the Provincial Sandeman Hospital, known as Civil Hospital, after the fatal shooting of president of the Balochistan Bar Association (BBA) Bilal Anwar Kasi earlier in the morning.