Pakistan
Hit-List Obtained from Terrorists mentions MWM Leader Allama Nasir's Name Next to Top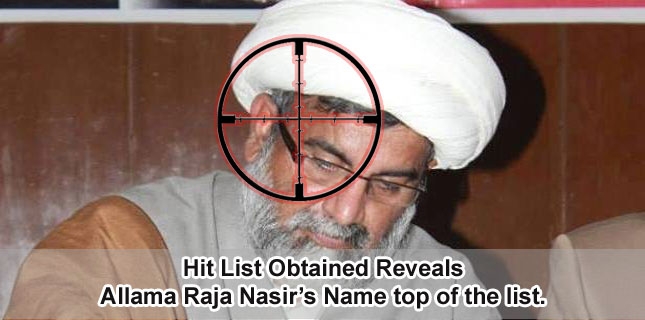 Majlis Wahdat ul Muslimeen (MWM) Pakistan Secretary General Allama Raja Nasir Abbas Jafri was second in the hit-list obtained from terrorists, planning a Mumbai-size attack in Islamabad, sources privy to the Interior Ministry revealed.
Inspector General of Police (IGP) Tariq Masood informed on July 14 the Senate Standing Committee on Interior that a grave terror bid was foiled in Islamabad due surveillance cameras recently installed across the city under the multimillion-rupee Safe City Project.
Although Masood did not share further details of the terror plot before the committee, senior police officials later revealed that the planned attack was similar to the one in Mumbai in 2008. Some 13 terrorists were supposed to attack a premier public sector university and a five-star hotel in Islamabad simultaneously, the officials said. Inter-Services Intelligence (ISI) learned of the plot after intercepting some telephone calls.
The arrest revealed hardcore terrorists with list of names to mention MWM supremo's name under it.
MWM Pakistan has been a name condemning atrocities across Pakistan and voice of Shiites in the region. Allama Nasir has been on a two month long hunger strike demanding government to rid Pakistan of Militancy to mention 'State Terrorism'.