Pakistan
MWM Hasan Zafar's Angiography, One Artery Blocked, still under Observation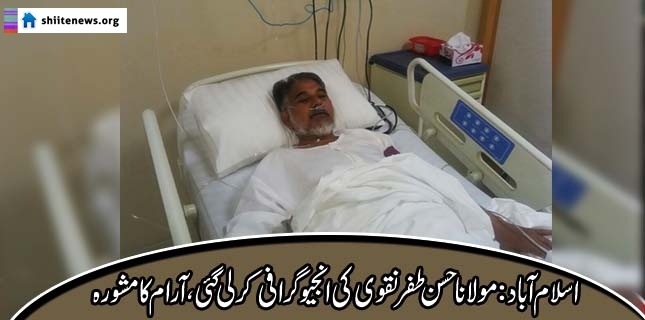 Majlis Wahdat ul Muslimeen (MWM) Pakistan Deputy Secretary General Maulana Syed Hasan Zafar Naqvi has undergone angiography with finding of one artery blocked, according to MWM spokesman.
Renowned cleric and preacher of Ahlul Bait Allama Hasan Zafar Naqvi suffered heart ache on Saturday and was admitted to Intensive Care Unit (ICU) of a local hospital in Islamabad. His angiography was immediately planned and the result was awaited.
The angiography was a success and reports have revealed an artery blocked creating pressure on the heart, said the hospital sources.
It is pertinent to mention here that Allama Hasan Zafar Naqvi is sitting from day one with his MWM leader Allama Raja Nasir Abbas in Hunger strike Camp protesting the atrocities and oppression against Shiites in Pakistan at the hands of 'State Patronized Militants'. Allama Nasir is as well affected by the two months long strike resulting in malnutrition and loss of 24kgs of his weight.