Pakistan
KARACHI: More Rallies and Sit-in Anticipated Should Allama Raja Nasir's Demands not Met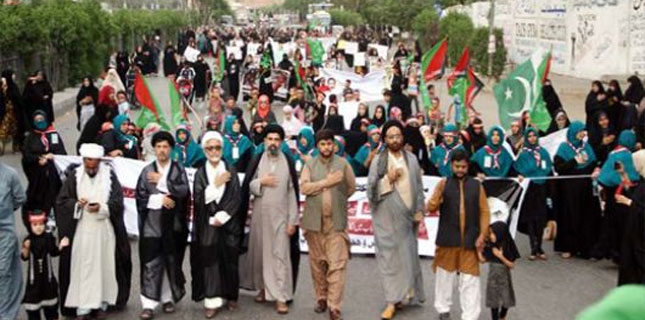 Sunday witnessed country wide Majlis Wahdat ul Muslimeen (MWM) women wings' protest rallies on the call of their leader Allama Raja Nasir Abbas.
Women along with their children in large numbers took to the street in Karachi, Hyderabad, Islamabad, Lahore, Peshawar, Quetta, Multan, Dera Ismail Khan, Faisalabad, Sukkur, Jacobabad, Tando Muhammad Khan, Shikarpur etc.
The protesters were holding banners and placard against shia genocide, on-going target killing and slogans against Nawaz's government.
In Karachi, a rally was observed from Shah Khurasan Mosque to Imambargah Ali Reza on M.A. Jinnah Road. Many a dignitaries addressed the demonstrators to include MWM's Secretary General Khanum Zehra Naqvi, Imamia Student Organization (ISO) central president Gul Zehra, Allama Ahmed Iqbal Rizvi, Ali Hussain Naqvi, Allama Mirza Yousuf Hussain, Allama Baqir Zaidi, Allama Azhar Naqvi etc. They all praised the efforts of MWM Secretary General Allama Raja Nasir Abbas Jafri and his on-going hunger strike protest. They all were mortified with government's disdain over his two months long protest against terrorism and target killing in Pakistan.
Khanum Zehra Naqvi and Allama Ahmed Iqbal Rizvi made significant speeches condemning the role of the government claiming to bring about peace in Pakistan. She alleged that Pakistan lives under constant threat and the administration has failed to provide civilians with a sense of security. Target killing, militancy, genocide prevails in the country at the patronage of state and non-state actors. Should this continue, they anticipated anarchy and the day of the regime numbered. Oppression on a particular faction is not only against the constitution but inhumane. Professionals and learned men of Shiite nation across the country are being target at the hands of terrorist and government in the name of National Action Plan.
Allama Baqir zaidi was demanded the governments to take immediate notice of the two month-long MWM leader's Hunger strike. He said that their leader is backed by the nation and before things go out of hand the government should come to term.