Pakistan
Al-Quds: Rallies Across Pakistan Claiming Solidarity with Palestine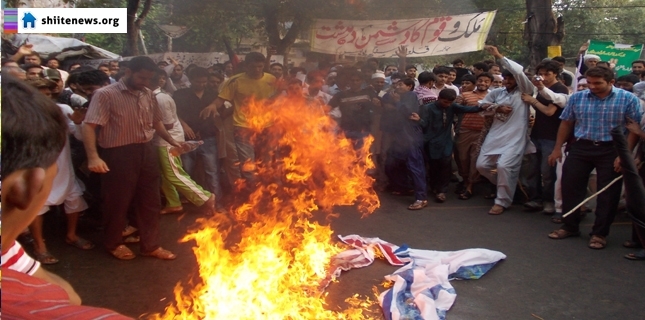 Like every year and countries across the globe, Pakistan also marked Al-Quds with rallies throughout the country to show its solidarity with the oppressed nation of Palestine.
Imamia Students Organization (ISO) and Majlis Wahdat ul Muslimeen (MWM), showing allegiance to their beloved leader (late) Imam Khomeini, organize country-wide rallies protesting the atrocities of Zionist regime in Muslim Countries.
The metropolis witnessed numbers in protest rallying from Numaish Chowrangi to Tibet Centre. Officials from varied political and religious organizations spoke at the event. MWM central deputy speaker Allama Ahmed Iqbal, Shia Action Committee (SAC) leader Allama Mirza Yousuf Hussain, Jafria Alliance chief Allama Abbas Kumaili, Jamaat-e-Islami Leader Asad Ullah Bhutto, Imamia Student Organization central president Ali Mehdi and many more prominent leaders were in audience.
In Lahore, the rally was taken out after Friday prayers from Islampura making its way through Nasir Bagh and Anarkali to end at Chairing Cross. The protesters were holding placards against Israels' atrocities in Palestine.
In Multan, the rally commenced from Ghanta Ghar Chowk to Nawan Shahr in which masses flocked to protest the oppression of Zionist regime in the middle-east.
In Bhawalpur, a rally from Jama Masjid Hussainia was organized till Fareed Gate.
The capital witnessed MWM's chief, already on a hunger strike for 50 days against shia genocide in Pakistan, addressing the rally. He emphasized muslim unity the only tool to curb the on-going oppression on muslim ummah.
Many a rallies with numbers were reported from Peshawar, Skardu, Gilgit-Baltistan, Sukkur, Hyderabad, Quetta and other cities as well, marking the freedom and sovereignty of Al-Quds, claiming solidarity with the nation of Palestine and protesting the mayhem spread by the Zionist regime.