Pakistan
DIFA-E-PAKISTAN COUNCIL AN ALLIANCE OF TERRORISTS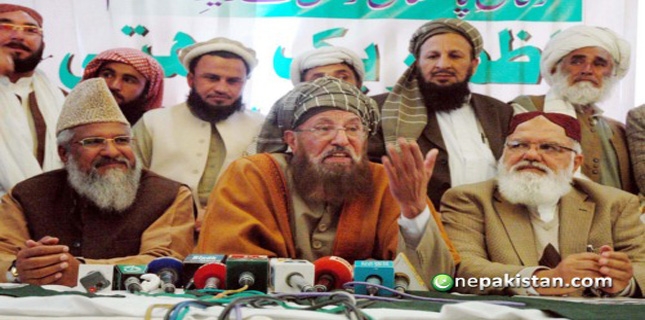 Pakistan was established in 1947. It was not given in a plate like a gift but modest people had struggled for that. It is an open secret that Millat-e-Jafaria had played a vital practical role for creation of Pakistan. Since General Zia ul Haq took over, terrorism started hitting Pakistan. Since then, more than *0,000 people including Shias and Bralevis were killed due to this mindset beside large number of minorities like Christians , Sikh's and Hindu's.
It was 1980s when terrorist groups were formed in the name of jihad. Purpose of these outfits was to kill Pakistanis in Pakistan. Sipah-e-Sahaba, Lashkar-e-Jhangvi, Harkat-ul-Ansar, Sawad-e-Azam AhleSunnat and Harkat ul Mujahideen were formed during General Zia's tenure.
On one hand, they were active in Afghanistan and on the other they handed spared fellow Muslims (Shias and Bralevis) in Pakistan. They had disliked Shia-Sunni unity because they were stooges of U.S. and Israel.
Even today, these terrorist outfits are free in perpetrating terrorism. Despite three decades of terror, they have resurfaced again.
These terrorists are again getting united on the platform of Difaa-e-Pakistan Council after three years of its formation. All Pakistanis are surprised that these terrorists are free in doing so on which invisible hands.
This ideology of terrorism and bloodshed has to be abandoned. Mainstream parties have to draw a fine line between them and intolerant terrorists. Pakistan and Pakistanis have suffered very much and still suffering from this menace. For God sake, change mindset to make Pakistan a terror-free state.
Otherwise, people will start hating religion itself. Enough is enough. Each and every person has to call a spade a spade. Jamaat-e-Islami and JUI-S should reconsider about some of the member parties and groups. Either they part ways with them or get them lost from their council.
The JI and JUI-S will lose a vast majority of impartial people of Pakistan. People like us have a soft corner for mainstream religio-political parties. The parties that claim to be anti-imperialism and that is party of Syed Maudoodi should not be in a camp that declare Mr. Maudoodi too as kaafir.
The terrorists outfit like Jamaat-ud-Dawa (JuD) , banned AhleSunnat-Wal-Jamaat (ASWJ), Ansarul-Ummah (AU) and others once again resumed their activities on the directives of invisible forces of the country, who want to use these terrorists of their vested agenda to counter the killing of Mullah Mansoor Akhtar and others by pushing the Pakistan Of Quaid-e-Azam Mohammad Ali Jinnah on fire.
Its the time to revisit the policies of Zia regime to save our beloved country from the proxies of United States, Saudi and other Arab monarchies.