Pakistan
Daesh's pamphlets found in Parachinar, terrorist group threatened to attack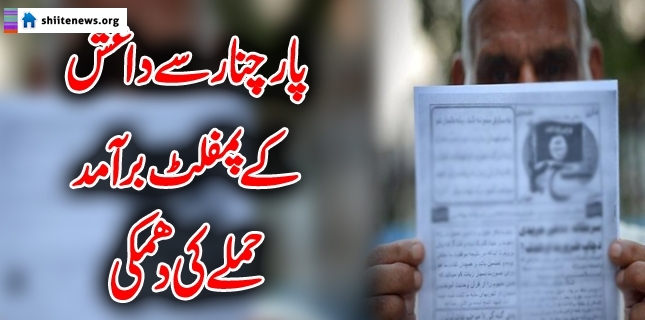 Daesh's pamphlets found in Parachinar, terrorist group threatened to attack
Shiite News: There has been a lot of debate and discussion in media over presence of Daesh in the country and it was only in the recent past that federal government denied the presence of even Daesh's shadow in the country but the situation has become different now and Daesh's presence in the country has been proved with several acts and incidents.
According to a private channel's report, Daesh is carrying out its activities in Pakistan and Afghanistan under the leadership of Zubair Al-Kuwaiti and the terrorist organization has been reported to have the most strength in Kurram agency where it has a large number of people working for it.
Only after few days of the report, Daesh's pamphlets were found in Jalandhar, an area of Parachinar, on Sunday morning in which it was claimed that Daesh will attack Kurram Agency through that area. In reaction to this, political administration immediately reached to the location and directed local leaders to be ready for any kind of situation.
According to governmental sources, political leaders have even asked residents of Jalandhar to take up arms for the defense of their area and youngsters of the area have showed determination for defending their area and country.