Pakistan
Allama Raja Nasir Abbas attended Hazrat Khawaja Ghulam Fareed's Urs, received warm welcome from Ahl e Sunnah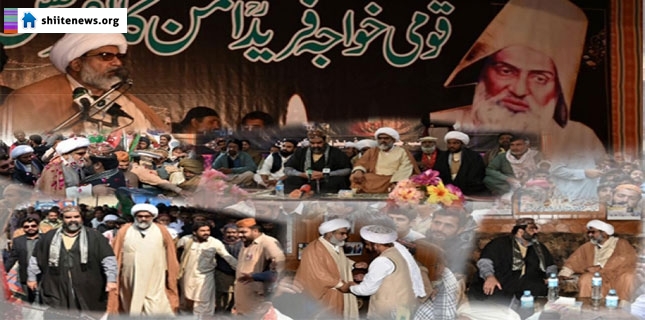 Allama Raja Nasir Abbas attended Hazrat Khawaja Ghulam Fareed's Urs, received warm welcome from Ahl e Sunnah
Shiite News: MWM Pakistan's central secretary general Allama Raja Nasir Abbas participated in the Khawaja Fareed national peace conference held at the occasion of renowned Sufi Hazrat Khawaja Ghulam Fareed's yearly Urs and also addressed the conference. Upon reaching Kot Mithan Allama Raja Nasir Abbas received a warm welcome from the Sajjada Nasheen Khawaja Amir Fareed along with hundreds of his followers.
Both Shia and Sunni scholars addressed the conference, including the son of Pakistan Awami Tehreek's head Dr. Tahir ul Qadri, Shaibzada Hassan Mohiuddin Qadri. Allama Raja Nasir Abbas while addressing the conference said "Both Shias and Sunnis, who are believers of Awliya and Ausiya, had sacrificed thousands of lives for achieving Pakistan but today, those who do not believe in Awliyas have been conspiring against Pakistan. Shias and Sunnis who established Pakistan are now far away from national politics and anti-Pakistan forces have occupied the rule".
He further said "Hazrat Khawaja Ghulam Fareed (rh) and all other scholars and Awliya of Islam taught about peace and unity and their teachings demand Muslims to show unity and brotherhood and stand against anti-Islam forces".
"Awliya Karam were the ones who spread and preached about Islamic teachings and Seerat of the Last Prophet (PBUH) after Prophets and Imams and now we should play our role in spreading these teachings in the society", he added.