Pakistan
MWM KPK announced to start a protest campaign against Tehreek e Insaf government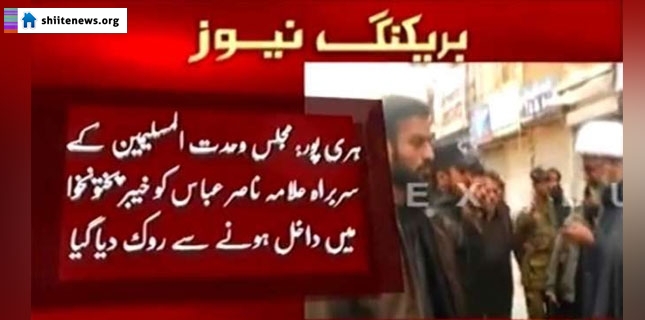 MWM KPK announced to start a protest campaign against Tehreek e Insaf government
Shiite News: MWM KPK has announced to run a protest campaign against Pakistan Tehreek e Insaf. Rejecting the ban on Allama Nasir Abbas to enter KPK MWM's spokesperson for KPK said "government has terribly failed to stop Shia target killing in KPK and the government. Claiming to establish a new Pakistan, has not taken any considerable measure to stop terrorism and target killing but policies based on injustices are being adopted against MWM.
MWM Pakistan's central secretary general Allama Raja Nasir Abbas was earlier stopped from entering KPK. According to a private channel, police told that ban was imposed by KPK's Home Department and a letter was issued regarding the ban. Allama Raja Nasir was to address a mourning congregation in accordance with Chehlum (40th day) of Imam Hussain (as) in Haripur.
Allama Nasir Abbas while recording his protest over this measure asked if this was Imran Khan's new Pakistan where a citizen was banned to enter a province. He further said that he was not given any notice regarding the action and was banned for no reason. He regarded KPK's police administration similar to that of Punjab police and considered the ban as injustice.