Pakistan
Sindh Government allowed using loud speaker in mourning congregations (majaalis) during Muharram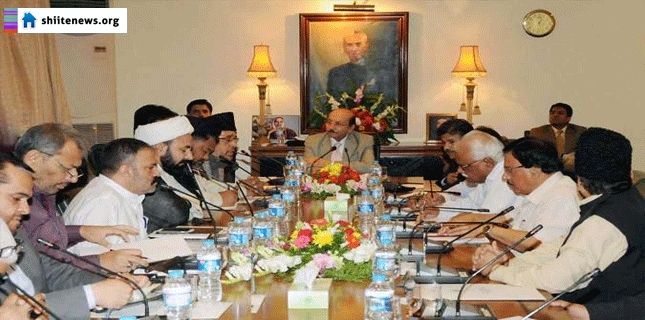 Sindh Government allowed using loud speaker in mourning congregations (majaalis) during Muharram
Chief Minister of Sindh Syed Qaim Ali Shah, on demand of Shia scholars, gave permission to use loud speaker in mourning congregations and processions during Muharram ul Haram and had also issued notification regarding this. The directive was given during yesterday's meeting with Shia scholars. Municipal Minister Syed Nasir Shah, Chief Minister's special assistant Dr. Qayyum Soomro, IG Sindh Police Ghulam Haider Jamali, Commissioner Karachi Shoaib Siddiqui, special assistants of Chisf Minister Sindh Waqar Mehdi, Rashid Rabbani, Molana Nazir Abbas, Molana Baqar Zaidi, Molana Furqan Haider Abdi, Molana Jafar Subhani and others were also present in the meeting.
Shia scholars said "Government has banned the use of loud speaker during processions and congregations because of which Ulema will face difficulty addressing huge gatherings and mourning processions. In addition to this, loud speaker is also needed for giving important instructions to mourners during huge gatherings and processions during Muharram but the ban will create problems.
On this, Chief Minister said that use of loud speaker has been banned according to NAP but if the permission to use loud speaker during Muharram mourning processions and gatherings is granted then people should be extremely cautious in its use and if it will be used for hate speeches then severe actions will be taken against the responsible.
Shia scholars told the Chief Minister about the load shedding during mourning programs of Muharram on which Commissioner Karachi informed the Chief Minister that he had talked to the CEO of K-electric and asked him not to do load-shedding during Muharram ul Haram. Chief Minister also dirested Dr. Qayyum Soomro to establish a complain center in his department and publicize phone numbers for hearing issues of masses on Code of Conduct or other issues.
Chief Minister asked Municipal Minister Nasir Shah to brief the meeting and Ulema on measures taken to solve issues related to water supply and sanitation. He also thanked Shia scholars for their cooperation and understanding and told that he had also conducted a meeting with Sunni scholars in which they had assured to maintain peace and harmony in the province.