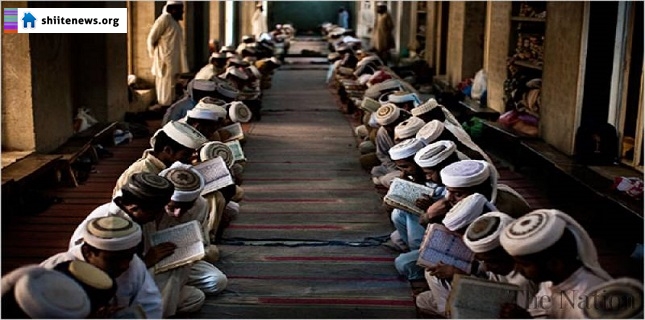 That hard-line madressahs are an essential part of the structure of militancy in Pakistan is no secret.
These institutions provide manpower for many of the country's proscribed sectarian and jihadi groups, as well as logistics and infrastructure, besides promoting an obscurantist worldview.
However, in recent times, the real challenge for the state has been countering radical seminaries, especially in light of the National Action Plan.
There has been some movement in this regard in both Sindh and Punjab. As reported on Friday, "jihadi literature" has been recovered after a madressah hostel was raided in Karachi; the material apparently belonged to a banned militant group and was put up by a student, who is now in custody.
The raids on seminaries in Sindh have followed disclosures by the Sindh authorities last month that there were 49 madressahs with suspected links to terrorism across the province. Half of the suspected institutions are in Karachi.
Clearly, religious militancy has put down roots in Sindh, particularly in Karachi, as frequent sectarian violence in the metropolis — as well as bloodshed in other districts, such as the devastating Shikarpur imambargah bombing in January — shows.
Hence, the identification of 49 suspected madressahs seems a little surprising. After all, as per official estimates there are over 9,500 seminaries in Sindh; around 3,000 of these — again mostly in Karachi — are unregistered. Therefore, raiding a handful of institutions and picking up a few suspects will have no long-term effect on solving Sindh's militancy problem.
The process needs to be continuous and based on solid intelligence. Perhaps in comparison Sindh has performed better than Punjab in this regard, where 'only' 20 suspected seminaries have been identified. Considering that Punjab is the ideological heartland of many Pakistani sectarian and jihadi militant groups, that number has justifiably raised eyebrows. Whether it is Punjab, Sindh or the other provinces, action against hard-line seminaries must go beyond cosmetic measures and have lasting effects in order to uproot the support structure of militancy.