Pakistan
Malik Ishaq had serious contentions with Ahmed Ludhyanwi: Report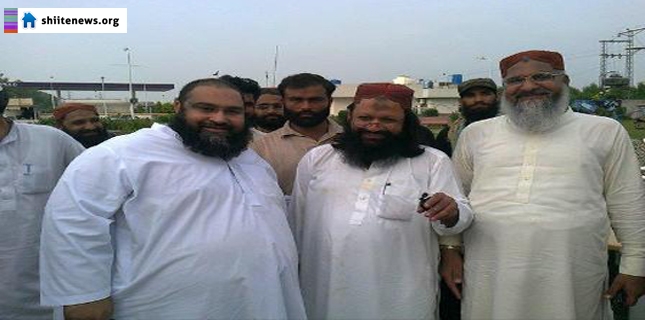 Contentions between Ahmed Ludhyanwi's Ahl e Sunnat wal Jama'at and Malik Ishaq's group Laskar e Jhangvi remained un-noticed due to terrorism and operation Zarb e Azab but those disputes were exposed when Malik Ishaq was killed in a police fight because according to analysts, Ahl e Sunnat wa Jama'at neither condemned the police fight nor recorded any kind of protest. Media also reported only one protest from Quetta where some protestors were also taken into custody by the security officials. The interpreter of Ahl e Sunnat wal Jama'at Uneeb Farooqui told that "it is the policy of party and its chairman Allama Ahmed Ludhyanwi not to support terrorism and extremism".
He claimed that despite the killing of 20 party members in Islamabad and Rawalpindi, their party did not take any destructive step apart from small protests. Some analysts consider this silence as unreal because for Ludhyanwi and his party, it is more important that they be accepted on central political stage than protesting on Malik Ishaq's killing. However, this is not the complete picture. In fact, it is being told that the real reason behind Ahl e Sunnat wal Jama'at's silence have been strife between Ahmed Ludhyanwi and Malik Ishaq. Leaders of both the parties do not deny the disagreements but they are reluctant of bringing them on record. Apparently, Malik Ishaq and his followers were nt happy with Ahmed Ludhyanwi. The disagreements started since Malik Ishaq's release, on bail, in July 2011 after spending 14 years in jail.
Ludhyanwi went to the jail to congratulate Malik Ishaq on his release and both addressed a rally afterwards however, Ludhyanwi's desire of turning Malik Ishaq into a political leader was wiped off by Malik Ishaq's objectives. Famous religious scholar Hafiz Tahir Ashrafi was one of those who met Malik Ishaq before his release. He told "When Chief Justice Iftikhar Muhammad Chauhadry accepted Mailk Ishaq's bail, I tried to convince Ishaq for changing his ways and he even agreed to it but later on, Malik Ishaq followed an opposite route due to his old comrades (Land Mafia) and leaders of Sipah e Sahaba Pakistan. I clearly told Malik Ishaq, in my last meeting with him in 2013, to bring Laskar e Jhangvi to an end and to politically contest the leadership of Ahl e Sunnat wal Jama'at."
Malik Ishaq and his ardent follower from Bahawalpur Ghulam Rasool were in conflict with Ahl e Sunnat wal Jama'at and this was a well-known fact. When Mufti Owais of JUI (F), who was also the member of Taleem ul Quran Committee in past, was asked about this conflict, he confirmed it and said that "it was considered in religious circles and we all heard that Malik Ishaq is extremely dangerous because he and his companions wanted to occupy major Mosques and Madaaris of Rawalpindi and Islamabad". It should be remembered that Malik Ishaq and his followers had succeeded in occupying mosques of northern Punjab. The President of Bhawalnagar press club Gulzar Ahmed Chauhadry told that 70 to 80% of mosques and madaaris of Sipah e Sahaba Pakistan in Bhawalnagar and Raheem Yar Khan went under the control of Malik Ishaq's group. Malik Ishaq group also established connections in district Jhang and in 2013 SSP's leader Aazam Tariq's son united with Malik Ishaq. Malik Ishaq group was defeated by Ludhyanwi group in May 2013 elections.
Molana Aazam Tariq's son Muawiya Aazam, who was nominated by Mailk Ishaq for the president ship of Ahl e Sunnat wal Jama'at Punjab, could not get more than a dozen votes against 1200 votes of Shams ur Rehman Muawiya. Malik Ishaq was expelled form Ahl e Sunnat wal Jama'at when Shams ur rehman Muawiya was killed in Lahore in December 2013. Malik Ishaq was suspected to be involved in the killing but Tahir Ashrafi denied the involvement of Malik Ishaq in killing Shams ur Rehman because of being defeated in elections. According to him, the reason for the killing was money because he wanted to deal with Land Maafia, Malik Ishaq used to deal. Some analysts also agree to it.
Ahl e Sunnat's political opponent in Jhang Sheikh Waqas Akram said that this fight over the party and its resources led to the formation of several small groups within the party, most important of which were Malik Ishaq and Ludhyanwi's groups. According to Shekih Waqas, Malik Ishaq and his friends, immediately after his release, started claiming that Ahl e Sunnat wal Jama'at's power was due to sacrifices of extremists. However, according to Ludhyanwi and his group, they tried their level best to save the party from breaking down. Intelligence officials claim that Ahl e sunnat wal Jama'at even targeted their old members who had become a part of Malik Ishaq group. An inelligenc eofficer told Dawn that the President of Ahl e Sunnat wal Jama'at Aurangzaib Farooqui is severely threatened and this is the reason that he has been arrested.
Farooqui and his family was arrested on 5th June for infringing the ban on entering Islamabad. However, farooqui was seen as a guest of honor in an event at Alwot, Murree and was also seen moving in the Rawalpindi district. Intelligence officer further told that "apart from a small protest at the night of farooqui's arrest, his party neither tried for his release nor has made any serious effort for his bail. The interpreter of Ahl e Sunnat wal Jama'at confirmed this and told that Ahmed Ludhyanwi asked Malik Ishaq to leave the party, in December 2013, due to his extremist opinions against party's policy. It should be remembered that Riyaz Basra, Malik Ishaq, Ghulam Rasool Shah and Akram Lahori made Laskar e Jhangvi group in January 1996. Three of these people have been killed and akram lahori is waiting to be hanged in Karachi Jail.