Pakistan
14TH August 2015: Praises for General Raheel Sharif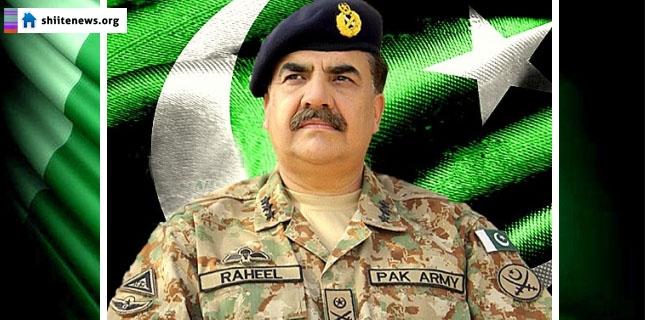 The fervor and enthusiasm with which celebrations of 14th August are going on was not seen since past ten years because of the terrorists and the menace of terrorism because of which people were threatened and terrified to arrange programs and events. But, this year, these clouds of terror have been cleared to an extent and all the credit goes to the Commander of Pakistan, General Raheel Sharif whose effective policies against the terrorists have broken the back bone of Taliban, Lashkar e Jhangvi and Sipah e Sahaba. The team of Shia News pays homage to Genreal Raheel Sharif on the occasion of 14th August and prays that he continues to chase the terrorists and enemies of this country and fighting against them and May Allah help him.
No one is susceptible about the success of "Operation Zarb e Azab' and the National Action Plan is also proving to be successful despite its shortcomings, however several Shia personalities and Madaaris were also targeted while adopting the balance policy according to the National Action plan. Though the authorities are aware of the fact that Shia Muslims never betray their country rather they are always ready to sacrifice everything for the sake of their country. A recent example of this can be seen in Iraq and Syria where Shia Muslims have saved these countries from breaking and have made Saudi policies to fail, otherwise a plan was made to divide Iraq and Syria into several territories but Shia Scholars kept national and religious spirit alive amongst the masses and made it mandatory to defend the national borders and same formula is being followed in Pakistan. Shia Muslims have always acted effectively and efficiently for Pakistan's defense and safety and will continue to do so.
Now the need is to further strengthen the National and Military leadership in order to completely eradicate every kind of terrorism and corruption. The most important issue faced by our country is of terrorism and for its complete eradication, it is necessary to eliminate not only the terrorists but their supporters as well so that in future, no Molvi, Politician or journalist do not even think of supporting the enemies of our country and this is the message of 14th August 2015.