Pakistan
Allama Amin Shaheedi demands arrest of Dr Yasir Rizvi killers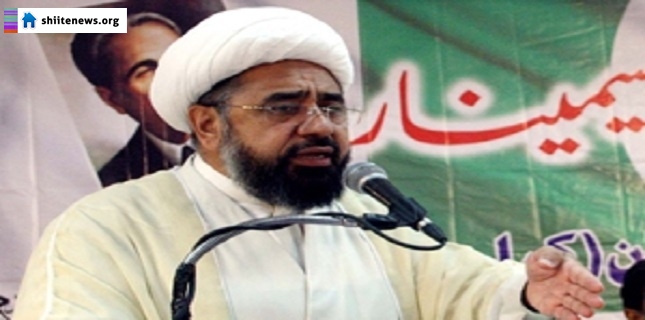 Central Deputy Secretary General Of Majlis Wahdat Muslimeen (MWM) Allama Muhammad Ameen Shahidi said that target killing of Professor Waheedur Rehman (Yasir Rizvi) in Quaid's city is regretful.
Genie of target killing has come out of bottle in last three days which is a question mark on the performance of government and state institution. Terrorists are killing Shia & Sunni Muslims without making any distinction across the country. Before this Great teacher of Jamia Karachi Doctor Shakeel Aoj and Professor Sibta-e-Jafar, Prof Taqi Hadi, Prof Azfar Rizvi and other important personalities were victims of target killing, but state writ is not visible against this and we condemn this attitude.
State institutions have to fulfill their duties and comprehensive action against all anti-Pakistan terrorists and extremist elements should be launched according to the spirit of 21st amendment and National Action Planµ. It is the responsibility of intellectuals and scholars, media and mosques to provide awareness and education to people. It is the responsibility of all segments of life that they play their active role to pull out the society from crisis.
Allama Ameen Shahidi said that now the situation is that if we want to make demand of the arrest of killers of Professor Waheed u Rehman alias Yasir Rizvi then to whom ? Exuberance over operation Zarb e Azab along with 21st Amendment then the result of this should be the arrest or killing of all terrorists, society has been saved from terrorists but on the contrary still terrorists are acting freely however they have changed their masks, changed their locations and these terrorists are killing Shia Sunni Muslims indiscriminately yet no sign of state writ is visible against them. This is time for reflection and is very concerning for people; this situation is seen all over Pakistan including Karachi. Therefore state institutions have to fulfill their responsibilities and should take stern action against anti-Pakistan terrorists and extremist elements.
Allama Ameen Shaidi said that when it is the matter of water and electricity then people come on the road for protest but for those matters that are affecting country and nation like a termite, whole society is silent over those issues. Therefore it is needed to provide awareness and education to people, such institutions and systems should be built that can provide awareness and awake people from dreams so that people can come out in the field and are prepare to give sacrifices of every kind. It is needed for every common man and elite that he prefers collective interest over personal interest so that we can deal with all crises including terrorism.