Pakistan
Amnesty International report mentions Shia Genocide by Lashkar-e-Jhangvi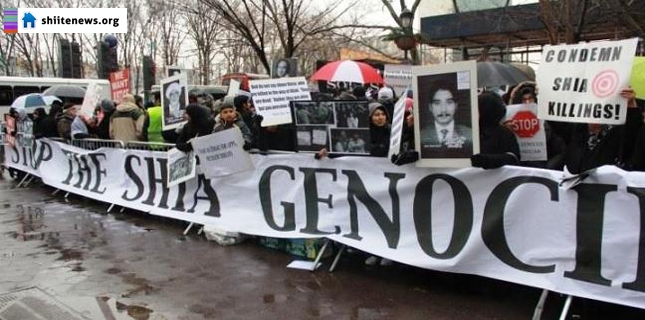 Amnesty International's annual report 2014/15 has mentioned Shia genocide and other sorts of massacre and brutalities by Deobandi takfiri terrorists of outlawed Lashkar-e-Jhangvi and Taliban.
"Religious minorities continued to face laws and practices that resulted in their discrimination and persecution. Dozens of ethnic Hazaras were killed in attacks in Quetta and other parts of Balochistan; the armed group Lashkar-e-Jhangvi claimed responsibility for many of these, saying they were because the Hazaras were Shia Muslims," says the report.
But, it is an incomplete report because banned Sipah-e-Sahaba (ASWJ) and its subsidiary Lashkar-e-Jhangvi, its allies and affiliates such as Taliban, al-Qaeda, DAISH (ISIL), Jun-ush-Shaitan, Jamaat ul Ahrar and Jaish al Kufr Balochistan, all of them are involved in genocide against the Shia Muslims in all over Pakistan and also involved in huge brutal terrorist attacks on Sunnis and non-Muslims of Pakistan.
Shiite News Editor Eye Ali commented on the report saying that the report should have been comprehensive and should have contained all sorts of terrorism and violent extremism by said groups. The reader would be misled by the report because that gives impression that these groups only hit Persian speaking Hazara Shia Muslims or opponent journalists and rights activists or government installations. These points are parts of comprehensive truth but not entire truth because said takfiri outfits also massacred opponent Muslims and non-Muslims without any justification.
They bombed Shia Muslims without considering their ethnic identity and targeted murders of Shia traders, professionals, youths and activists in Karachi, should not have been ignored. They assassinated Sindhi-speaking Friday prayer leader in Shikarpur last year. And if they say it 2014-15 report, then they should have mentioned 3 major suicide bombings during Shia Muslims Friday prayers and Maghrib prayer congregations in Lakhi Dar Shikarpur, Hayatabad Peshawar and Shakrial Rawalpindi respectively.