Pakistan
Geo News, Ludhianvi and ASWJ say founder of Pakistan Jinnah was infidel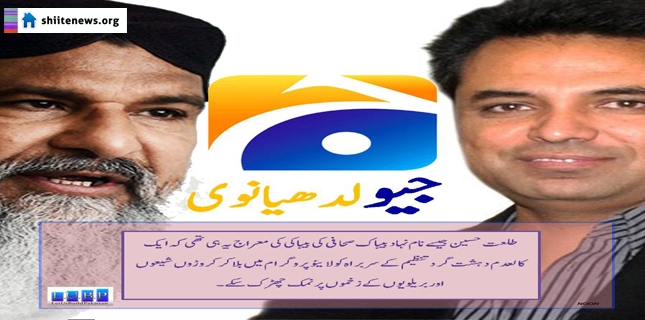 By Eye Ali
Read this news first.
Civil Society's activists and Shia Muslims jointly staged a rally in Islamabad to protest against the Geo News/Jang Group for media projection of notorious ringleader of infamous Deobandi takfiri terrorist outfit ASWJ that was proscribed by the State of Pakistan for its terrorist activities.
The protestors marched through main road of Pakistan's capital city and demanded of the police at Khosar Police Station to register FIR against the real owner Mir Shakil Ur Rehman, his son who is functional CEO namely Mir Ibrahim and Talat Hussain, the anchor person who conducted interview.
The interview with Ahmed Ludhianvi by the Geo newly-joined anchor Talat Hussain sent a shockwave to all in Pakistan and all over the world because ASWJ is renamed version of banned Deobandi takfiri terrorist outfit Sipah-e-Sahaba that is mother outfit of banned Deobandi terrorist outfit Lashkar-e-Jhangvi.
Lashkar-e-Jhangvi was founded in Afghanistan under the government of Deobandi takfiri Taliban and among three co-founders of LeJ were Malik Ishaq and Ajmal alias Akram Lahori. Malik Ishaq of Rahim Yar Khan is vice president of Ludhianvi in his (proscribed) ASWJ. Akram Lahori is condemned to death but has not been executed so far due to PMLN government's alliance with the ASWJ.
They all remained involved in genocide against Shia Muslims and also massacred innocent Sunni Bralevis and non-Muslim Pakistanis. They attacked Shia mosques and Imam Bargahs, occupied mosques of Sunni Bralevis, destroyed Shia mosques and Imam Bargahs, non-Muslims places of worship including those of Christians, Hindus and Ahmedis/Qadianis.
Islamabad Secretariat Police Station's FIR against ASWJ leaders including Ahmed Ludhianvi says that on February 15, 2015, they attacked police in front of Supreme Court and raised slogans Shia kafir, Shia kafir. That FIR is a proof that Ludhianvi group is takfiri. The slogans mean founder of Pakistan Mohammad Ali Jinnah is not a Muslim but a heathen/infidel.
So, Muslims of Pakistan enjoy this inalienable right to question the State of Pakistan and its organs and institutions why they mislead people about ideology of Pakistan that it was founded by Muslims of India under the leadership of Mohammad Ali Jinnah, a Shia Muslim.
Sir Aga Khan, one of the founding fathers of All India Muslim League was Ismaili Shia leader. Other founding fathers of Pakistan Movement namely Justice Ameer Ali, Raja Sahib of Mehmoodabad, Ispahani family and Hilali family, all were Twelver Shia Muslims. Justice Ameer Ali helped Indians to introduce Muslim Personal Law in India and Indian Muslims enjoy their religious rights under that law whose inventor was a Shia Muslim.
Chief Justice of Pakistan took no notice of the slogans of Shia kafir that were raised just at the main gate of his Supreme Court's main building in Islamabad. Government of Pakistan doesn't take notice of that takfiri slogan and continue alliance with Ludhianvi. Under the military government of General Pervez Musharraf Azam Tariq, head of banned Sipah-e-Sahaba was allowed to contest elections 2002 from behind the bars. Parliament welcomed Azam Tariq and other takfiris who got them elected to the legislature.
It is brief fact-sheet about the Pakistani State's organs and institutions relations with the takfiris who says Shia Muslims are infidels or heathens and this ideology makes Pakistan and its founding fathers and favour-doers as non-Muslims and non-Muslim state respectively.
Muslims and darling generals of takfiris salute infidel/heathen Jinnah's portraits, his shrine in Karachi, lay floral wreath at grave and recite Quranic verses to rest departed soul of an infidel/heathenin eternal peace in the heavens. But, takfiris say heavens are made only for Muslims. Aurangzeb Farooqi of the proscribed ASWJ is allowed to stage rallies. In one such rally on Kashmir Day this month, he offered 100,000 militant volunteers to liberate Kashmir to the Pakistani army and same day he staged sit-in near Chief Minister Sindh's CM House demanding government-arranged security for himself.
This is Pakistan, the only wonderland in the universe. One should doubt that there are 8 wonders around the world. Islamic Republic of Pakistan is the only wonder, the wonderland, second to none.