Pakistan
Shia Long March sit-in protestors offer namaz-e-Isha after Maghrib prayers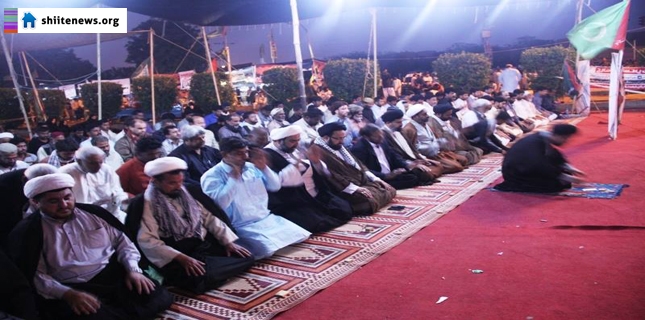 Protestors participating the Labbaik Ya Hussain (AS) Long March/sit-in along with heirs of martyrs of Shikarpur's Shia mosque's bombing, offered Maghrib and Isha prayers in front of Mazar-e-Quaid-e-Azam on main M.A. Jinnah Road, named after founder of Pakistan on Wednesday.
After sunset, the hosts belonging to Majlis-e-Wahdat-e-Muslimeen announced separate prayer congregations for men and women. Latter were asked to offer prayers at Fatimiyyah Centre situated just near to the venue of protest.
Eminent religious scholars and leaders of MWM and elders of Heirs Committee are seen in the first row.
(Background of the Long March/Sit-in and talks with government news are available on Shiite News Pakistan web page).