Pakistan
Ex-President Zardari invites heirs of martyrs at Bilawal House to end deadlock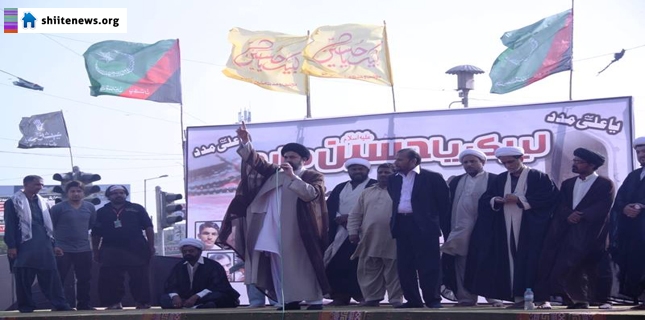 Former President Asif Ali Zardari has intervened due to deadlock in the talks between Sindh Government and Committee of Heirs of Shikarpur's Shia martyrs. He invited them at Bilawal House where talks continue.
Shiite News learnt on good authority that due to hard stance of the Committee and insistence on acceptance of all the demands listed in their charter and that was presented to Sindh Government at Chief Minister House.
Insiders disclosed to the Shiite News Editor that Sindh Government argued that armed forces of Pakistan were engaged in Operation Zarb-e-Azb on the tense borders with Afghanistan hence it was not appropriate to call in them in Sindh.
Government sources confirmed that they believe that all demands were legitimate but Shia Muslims should accept government's logic behind targeted operation against the terrorists' not through military but by police and rangers.
Allama Maqsood Domki, head of the heirs of martyrs committee, has arrived at the venue of sit-in by Long March protestors at Mazar-e-Quaid due to a break between talks.
Shia political observers are of the views that end of deadlock needed change of heart by either side of the talks. Talks will continue till the mechanism of implementation on demands will be finalized.