Pakistan
90 percent investigation of Ashura bomb blast completed, terrorists involved in 8 and 9 Muharram blast arrested, Dr Zulfiqar Ali Mirza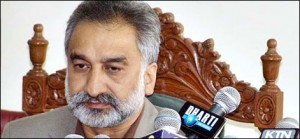 Sindh Home minister Dr Zulfiqar Ali Mirza said that government had been completed the 90 percent investigation of tragic incident on Ashura procession bomb blast.
He said that 10 percent investigation would be completed soon and government got many successful clues.
He was talking to the media
 person after meeting with delegation of Shia Ulema's at PPP Sindh Media cell on late Thursday night, Jafaria Alliance President Allama Abbas Kumali, Allama Mirza Yousaf Hussain,Maulana Hussain Masoodi, Syed Shabar Raza, Salman Mujataba , Askari Raza, Deputy speaker Sindh assembly Ms Shehla Raza , Advisor to CM Waqar Mehdi , Rashid Rabbani and CCPO Wasim Ahmed were attended the meeting.
 
The Sindh home minister constituted the five members committee of shia leaders to inspect the detained youth and directed the CCPO to release the innocent person on the advise of the five members committee.
Dr Mirza said that he had never given date regarding inquiry of tragic incident nor said that it was suicide or planted blast.
He vowed that this tragic incident inquiry would be reached at conclusion and will not be allowed to bury the inquiry of this tragic incident.
He said that this tragic incident held under the domain of the Sindh government and he was responsible for law and order situation in the province.
He said that government had already arrested the terrorists in this connection saying that Ashura bomb blast was also linked with 8th and 9th bomb blast incidents.
He disclosed that enemies of the country also wanted to blast on 7th Muharram  but it could not be successful in their heinous crime.
He added that government also investigating a separate inquiry after set blaze market and target killing incidents took place in the city.
He said that he will request Sindh Chief Minister to further increased compensation for martyrs on Ashura day.
He said that religious Shia scholars informed him in the meeting that some black sheep's in the police doing injustice with Shia community and minting money from them.
He said that he had given order to inquire case to case and took stern action against police who were doing injustice with Shia community people.
He appealed the masses that they should come forward and to guide Sindh Home Ministry. Sindh Home Minister appealed the political parties to not do political scoring on this tragic incident and not used this tragic incident for political use.
Talking to the media, former senator and Jafaria Alliance President Allama Abbas Kumaili accused the law enforcers responsible of the incident and demanded the removal of the officials who showed their criminal negligence and the higher level inquiry of the mayhem.
He demanded the government to arrest the real culprits behind the incident and conduct a high-level investigation in this regard.