Pakistan
Sindh observes strike against Shikarpur Shia massacre during Friday prayers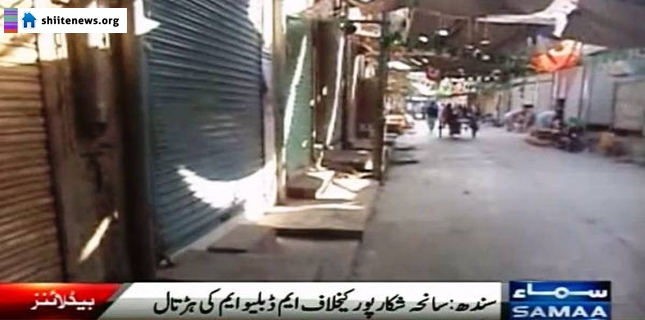 Protest against Shia massacre during Friday prayers in Shikarpur continues in all over Sindh where a peaceful shutter-down commercial strike is being observed. Business activities and educational institutes are closed across the province on a call from Warisan-e-Shohada Committee (The committee of heirs of Shikarpur's martyrs).
The committee and its supporters mainly Majlis-e-Wahdat-e-Muslimeen, also asked people to mourn the Shia genocide in Peshawar where scores of Shia namazis (worshippers) were martyred due to suicide bombings in Masjid-e-Imamia Hayatabad Phase V.
Heirs of the martyrs have announced Labbaik Ya Hussain (AS) Long March to protest against the Sindh Government's inaction against the takfiri terrorists who perpetrated the Shikarpur massacre in Lakhi Dar area's Masjid-e-Syed-ush-Shohada/Karbala Moalla Imam Bargah.