Pakistan
Civil society Karachi sit-in protest against Shikarpur massacre ends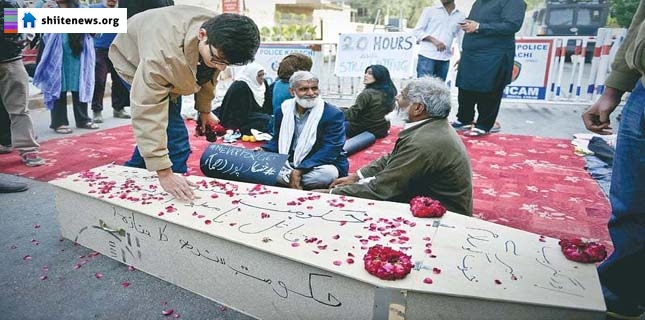 Civil society's sit-in near Sindh Chief Minister's (CM) House came to an end after successful negotiations between the government and the protestors after 31-hours of continued protest against massacre in Shikarpur Lakhi Dar Karbala Moalla Masjid and Imam Bargah.
"I assure you that provincial government will crack the whip on the banned militant outfits with full force," Pakistan People's Party leader and an advisor to the Chief Minister Sharmila Farooqui assured the protestors led by social activist Jibran Nasir.
On behalf of the Sindh government Ms Farooqui said adding, "The malevolent slogans chalked on the walls will also be wiped off while no lenience will be shown to the hate-mongers for their detestable deeds."
Although mainstream media didn't report it but Ms Farooqi also assured that security provided to the banned ASWJ leaders mainly Aurangzeb Farooqi would also be withdrawn because he is an official of a proscribed terrorist outfit, according to the protestors who participated in the bilateral talks.
"The government of Sindh will pay the medical bills of Shikarpur Imambargah blast victims making sure they get the best of the available treatment," Pakistan People's Party leader Sharmila Farooqui assured the protestors led by social activist Jibran Nasir.
Civil society members including women and children had been protesting near the CM House since Monday evening demanding of the authorities to take action against the outlawed Deobandi takfiri terrorist organizations and bear the healthcare expenses of the Shikarpur suicidal bombing's survivors.
Earlier, thousands of Shiite Muslims rallied to protest against the massacre of 61 Shia Muslim namazis (worshippers) in a suicide bombing at a mosque perpetrated by Wahhabis-allied Deobandi takfiris.