Pakistan
Shia Muslims continue sit-ins in Karachi to protest against Karbala Moalla tragedy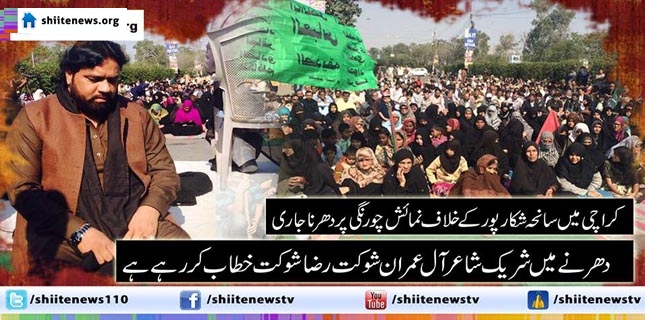 Shia Muslim supporters of Majlis-e-Wahdat-e-Muslimeen continued their expanded sit-ins at various places across Karachi on Saturday. They began sit-ins on Friday evening to protest against suicide bombing at Friday prayer congregation in Masjid and Imam Bargah Karbala Moalla in Lakhi Dar area of Sindh province's Shikarpur District.
First sit-in began at main Numaish Chowrangi in Karachi that continued till the filing of this report on Saturday evening. Shia parties have announced a rally near the venue of sit-in later in the evening. Their protest is against the Wahhabis-allied Deobandi takfiris who are responsible for Shia genocide and massacre of Sunni Muslims across Pakistan.
Allama Hassan Zafar Naqvi, Maulana Aqeel Moosa and renowned Zakir and poet Shaukat Raza Shaukat also spoke to the protestors alongside MWM's officials Maulana Ali Anwar, Maulana Ahsan Danish, Allama Mubashir Hassan, Ali Hussain Naqvi, Engineer Raza Naqvi and Nasir Hussaini. Mr. Aqeel Moosa also led prayers during the sit-in. Women and children also are attending the sit-ins.
Numaish Chowrangi is situated in front of mausoleum of founder of Pakistan Mohammad Ali Jinnah.
Other sit-ins are being staged on Malir 15 near Mohammadi Dera Colony and Star Gate on Shahrah-e-Faisal. 8 Shia youths were held but police later released them due to MWM pressure because they made clear that sit-ins are peaceful and if takfiris sabotaged peaceful nature in the areas near to protest, should be crushed by police.
Shiites also continued their sit-in at main Shahrah-e-Pakistan near Incholi and on Five Star Chowrangi near Masjid and Imam Bargah Babul Ilm.
Shia leaders at the sit-in lambasted the government officials saying their incompetence and inaction against the takfiris emboldened them and enticed them for suicide bombing in Shikarpur Masjid and Imam Bargah.
On the other hand, Shia Muslim across Sindh province continued their protest against takfiris suicide bombing on second consecutive day. Rallies and demonstrations were staged alongside sit-ins in Jacobabad, Shikarpur, Kashmore, Larkana, Dadu, Sehwan Sharif, Kotri, Jamshoro, Hyderabad, Matli, Tando Bago, Badin, Tando Muhammad Khan, Tando Allah Yar, Sanghar, Nawabshah, Mirpurkhas, Larkana, Dadu, Khairpur, Thatta, Umer Kot and Hyderabad.
Many areas across the province are wearing strike-like look due to the Shia protests. Shikarpur terrorist attack has angered Shia youths who have pressed the Shia leaders to take an extreme line against the pro-takfiri governments at the centre and in the provinces. They are of the views that Saudi-financed, CIA/Mossad-trained and Wahhabis-allied Deobandi takfiri terrorists still enjoy patronage from ruling elites and influential politicians that encouraged them to continue genocide against Shiites at will.