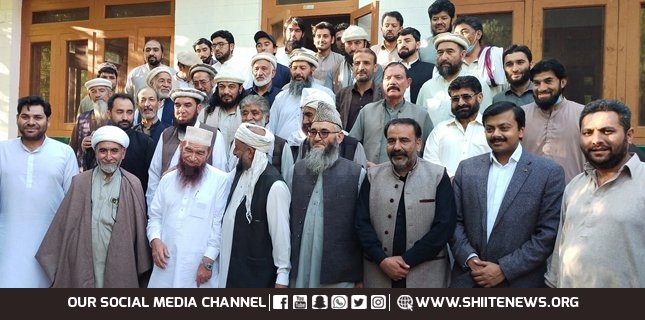 Shiite News: To thwart Anti-State conspiracies, Shia, Sunni and Noorbukhshi Ulema has come on one page and following deplorable incidence in Ghawari district Ghanchey, Ahle Hadith, Shia and Noorbakhshi expressed unity among the Muslims by attending each other's events as solidarity gesture on Wednesday.
On this occasion Jamiat-e-Ahle Hadith arranged a lunch for Shia, Sunni and Noorbakhshi Ulema, Elders and provincial ministers. Same night Shia community of Ghawari hosted a dinner at Masjid Imam Ali Raza which was attended by Jamiat e Ahle Hadith, Ahle Sunnah and Noorbakhshi elders and scholars while Noorbakhsi community hosted a dinner on Thursday.
This goodwill gesture thanks to Ulema, Eleders and provincial ministers will help to subside the tans situation of the area following attack on mourn procession in Ghawari.